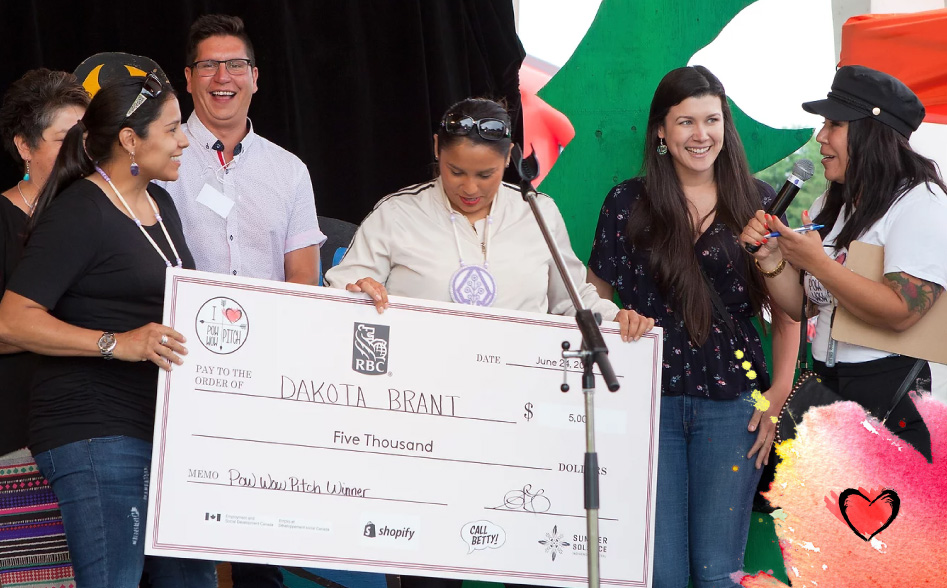 Pow Wow Pitch Competition 2021 for Indigenous Entrepreneurs Across Turtle Island ($50,000 CAD in prizes)
Deadline: July 15, 2021
Applications for the Pow Wow Pitch Competition 2021 are now open. The Pow Wow Pitch is a pitch competition for Indigenous entrepreneurs across Turtle Island to shine the spotlight on pow wow vendors, artists, business builders and innovators from all backgrounds and industries, whether just starting or looking to grow to the next level.
This year, more than 1,000 Indigenous entrepreneurs will pitch their businesses online for a chance to win cash prizes ranging from $500 to $25,000 CAD.
About Pow Wow Pitch
Pow Wow Pitch is a grassroots community of Indigenous entrepreneurs across Turtle Island, purpose-built to provide a safe, collaborative, supportive and empowering platform for inspiration, education, mentorship, celebration, and reconciliation through entrepreneurship.
They enhance, develop and accelerate growth for current and aspiring Indigenous entrepreneurs in a sustainable way through programs and resources. Their programs are rooted in community leadership through volunteerism as a reflection of respect and reciprocity.
Benefits
$50,000 in prizes ranging from $500 to $25,000 CAD.
Gain exposure to grow faster.
Become eligible for the Pow Wow Pitch Box Program, where they buy and distribute up to 250 units of your products.
Get access to the Pow Wow Pitch Seed Fund to scale up.
Pair up with one of their mentors, committed to your success.
Access free tools and opportunities to grow your business.
Join a community of Indigenous innovators, makers, artists and builders making a difference in their community.
Eligibility
Open to Indigenous (Inuit, Métis or First Nations) people living anywhere on Turtle Island (Canada, the United States or Mexico);
Be of any age or gender and
With an idea or business at any stage and in any industry.
Criteria
Presentation: Have you clearly communicated your product/service, value proposition and a pathway to sustainability and success?
Execution: Have you convinced the judges you will follow through on your business goals?
Motivation: Have you clearly communicated how you will use the money to start or take that next step?
Application
Here are some ideas on what to include in your pitch.
Introduce yourself and the name of your business.
Tell them where you live and what Indigenous community you are part of.
Tell them why you started your business and the problem your business looks to solve.
Tell them how far you have taken your business and your vision for the future.
Tell them about yourself, your team, and why you are the one to take the business forward.
Tell them what you would spend the $15,000 on.
Tell them why you should win the 2021 Pow Wow Pitch and what impact you win will have on the community.
For more information, visit Pow Wow Pitch.