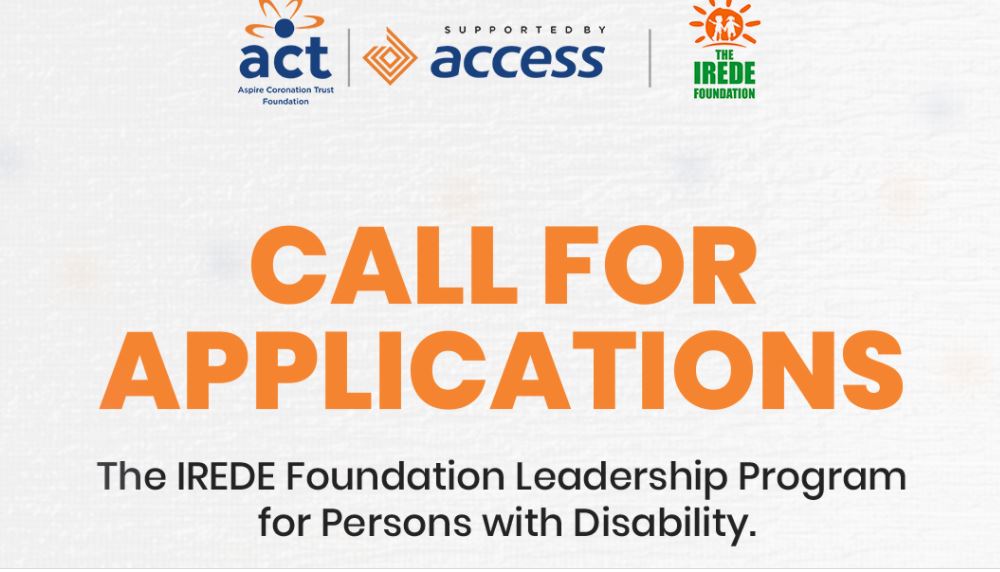 IREDE Foundation Leadership Program 2021 for People with Disabilities in Nigeria
Deadline: July 5, 2021
Are you a person with a disability between the age of 18 – 30 looking forward to building and sustaining your desired career? Or perhaps you are a young person with a disability in search of experience to build your leadership skills or increase your chances of someday leading your own brand? Apply now for the IREDE Foundation Leadership Program 2021.
Funded by the Aspire Coronation Trust (ACT) Foundation, the program is designed to equip persons living with a disability with the required leadership knowledge, skill, and mindset overhaul on the possibilities of building and maintaining their desired career path. It is designed to not only build your leadership skills but also provide you with a one on one mentorship with top executives leaders from different industries in the country.
Benefits
The leadership program will provide you with the opportunities:
Builds your leadership skills through capacity building.
Connects you with a mentor for 3 weeks through the mentorship program.
A paid internship with a corporate or a not for profit organization for 1 month.
Gain the soft skills needed to propel and maintain your career
Eligibility
Open to young people between the age of 18 – 30;
Be located in Nigeria.
Participants must access a mobile device, tablet computer and internet.
Must be available to participate fully for the duration of the program if selected.
Application
The Application deadline is the 5th of July 2021. Late applications will not be considered.
For more information, visit IREDE Foundation.