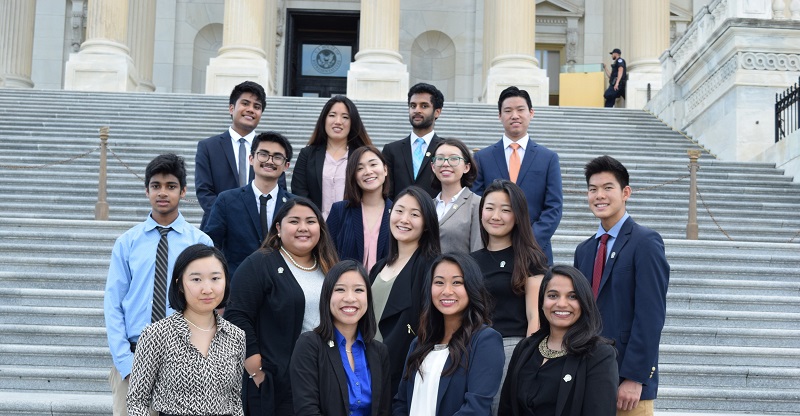 APAICS Congressional Racial Equity Fellowship 2022 (Fully-funded)
Deadline: July 30, 2021
Applications are open for the APAICS Congressional Racial Equity Fellowship 2022. The Asian Pacific American Institute for Congressional Studies (APAICS) Congressional Fellowship is designed for young AAPI professionals looking to increase their experience in public policy and service.
The full-time paid, 9-month program places fellows in congressional offices to gain policy experience as part of the legislative team. The program provides fellows with opportunities to build their leadership skills, encourages political engagement, and fosters interest in a public service career.
While working in Congressional members' offices, fellows will utilize their own experiences providing a racial lens in their field. Fellows will help draft public policy, attend briefings, observe committee hearings, conduct research, write speeches, and develop rapport with key leaders in all areas of social justice allowing for continued representation of Asian Americans in the public policy process. Additionally, the fellow will work with other fellows from existing relationships with the tri-caucus constituencies (The Congressional Black Caucus Foundation and The Congressional Hispanic Caucus Institute), educating other constituencies on Stop-Asian Hate while strengthening coalition building.
Benefits
APAICS 2022 Congressional Racial Equity Fellows receive:
Professional work experience in Washington, DC
Benefits:

A grant of $27,000 for the duration of the nine-month fellowship (equivalent to a $36,000 annual salary)
Domestic round-trip transportation to Washington, D.C.
Professional Development Funds
Health insurance reimbursement up to $200 a month

Professional development programs, networking, access to the APAICS alumni network, and opportunities to travel for briefings and conferences where anti-Asian hate legislation is being discussed.
Eligibility
Applicant must have completed their undergraduate or graduate degree and/or have at least five years of public service experience prior to the program start date.
Be U.S. citizens, lawful permanent residents, or individuals who are legally authorized to work full-time without restriction for any U.S. employer and who possess lawful evidence of employment authorization. 

Note: Individuals who are seeking consideration under the "Deferred Action for Childhood Arrival" (DACA) policy must possess an Employment Authorization Document at the time of application that is valid throughout the program.

Family members of the APAICS Board of Directors or National Advisory Council are prohibited from participating in any APAICS programs.
Program Requirements
Work 40 hours a week at the placement site.
Attend a one-day orientation.
Attend the APAICS annual Gala in May 2022.
Participate in APAICS-sponsored professional development events
Collaborate with fellows from the Congressional Hispanic Caucus Institute and the Congressional Black Caucus Foundation.
Complete quarterly reports.
Submit a mid-program and end of program evaluation.
Comply with APAICS policies regarding work performance and personal conduct.
In the latter half of the program, Racial Equity Fellows will host policy briefings on Capitol Hill and engage in discussions that examine Congress's agenda to address social justice reform and its implications as it relates to the AAPI community. Racial Equity Fellows will produce policy session(s) creating awareness around AAPI social justice issues and anti-hate legislation.
During Asian Heritage Month in May 2022, fellows will analyze best practices and policy solutions regarding the impact of racial disparities in Asian American and Pacific Islander communities. Fellows will work to engage in anti-hate research and develop K-12 education curriculum around Asian American and Pacific Islander history. Their research will culminate in a racial equity session that they will organize and present at the next APAICS Legislative Summit in May 2022. 
Selection Process
The APAICS Congressional Racial Equity Fellowship Program is a highly competitive program. Applications are reviewed in a multi-step process by a Selection Committee that includes program alumni, staff, and board members.​
Round 1 – Application review: Applications are reviewed individually and scored by the Selection Committee. Applications are scored based on evidence of leadership and leadership potential, including community involvement, commitment to public service, clarity of writing, and ability to challenge self.
Round 2 – Interview: Top candidates receive an invitation to interview with members of the Selection Committee. Interviews are scored based on leadership qualities and experience, professionalism, commitment to public service, and future plans and aspirations.
Round 3 – Finalist Interviews: Top candidates following Round 2 will be designated as finalists by the selection committee. Finalist application packages are forwarded to congressional office partners for interviews and placement.​
Application
The following items are required as part of the application. No exceptions will be made for incomplete applications after the deadline.
Resume
Cover Letter
Essay Responses
Two Letters of Recommendation
Academic Transcript(s) (official or unofficial, if applicable)
For more information, visit APAICS Fellowship.