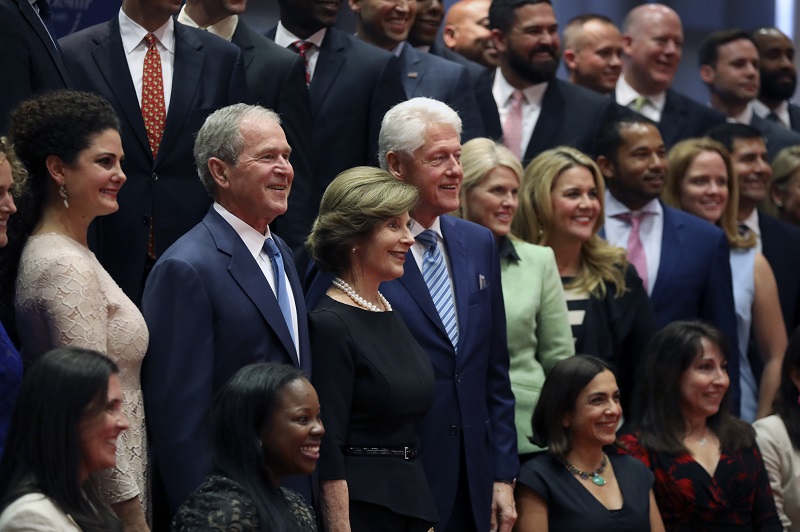 George W. Bush Presidential Leadership Scholars Program 2022 for U.S. Citizens (Funded)
Deadline: July 16, 2021
Applications are open for the George W. Bush Presidential Leadership Scholars Program 2022. The Presidential Leadership Scholars brings together bold and principled leaders who are committed to facing critical challenges, both at home and around the world, and who are interested in exploring lessons learned during the administrations of George W. Bush, Bill Clinton, George H.W. Bush, and Lyndon B. Johnson.
This program is the only of its kind that can provide the insight drawn from the experiences of these presidents, the advisors who worked closely with them, and the resources of these centers coupled together with the best minds from leadership studies. Their strong emphasis on cultivating a lifelong network of participants, faculty, and staff also creates a unique professional development experience.
Cost
There are zero financial costs associated with applying to the PLS program.
The four presidential centers are committed to offering this opportunity to leaders across the country, regardless of their financial means. To honor this commitment, program tuition, housing, meals, and travel during the course sessions in the host city are funded in full by contributions from foundations, individuals, and corporations.
The program provides domestic air transportation (when applicable), ground transportation, hotel lodging, and meals during all modules.
Scholars are responsible for the costs of transportation to and from the airport and airport parking, if applicable, in the participant's home city. Meals consumed before or outside of the modules specific dates and times are not covered. At the beginning of each Module, each scholar is expected to provide a credit card for incidental charges at each hotel.
Eligibility
Applicant must be

A citizen of the United States living and working in the country;
A citizen of the United States living and working outside of the country, but who can pay for all non-domestic costs associated with traveling to each module;
A legal resident of the United States living and working in the country;

The minimum age for participants is 21. While there is no maximum age, most Scholars have 10+ years of professional experience and are at a point in their careers where their participation and the lessons learned in PLS will be able to be put into practice for many years to come.
Exceptionally qualified candidates with less than 10 years of experience will be considered for the Presidential Leadership Scholars program.
Selection Criteria
The program assembles a unique and diverse cohort of high-potential leaders. Scholars most successful in the program share certain characteristics:
Civically minded: Acts to improve society.
Open to feedback: Seeks, mindfully accepts, and actively responds to assessments of their behavior and performance.
Accepting of diverse points of view: Welcomes opportunities to interact with and learn from others with different backgrounds or perspectives.
Meaningful professional experience: Has breadth and depth of professional experience — typically 10+ years — and will build on the PLS experience for years to come.
Demonstrated leadership: Presents an established record of engagement and leadership. (PLS is not an introductory course in leadership.)
Influence: Is in a position to implement the change they desire.
Committed to the program: Can fully participate in a rigorous and intense six-month program.
Application
All application materials, including recommendations, must be submitted online by 11:59 PM PDT Friday, July 16, 2021.
For more information, visit Presidential Leadership Scholars.