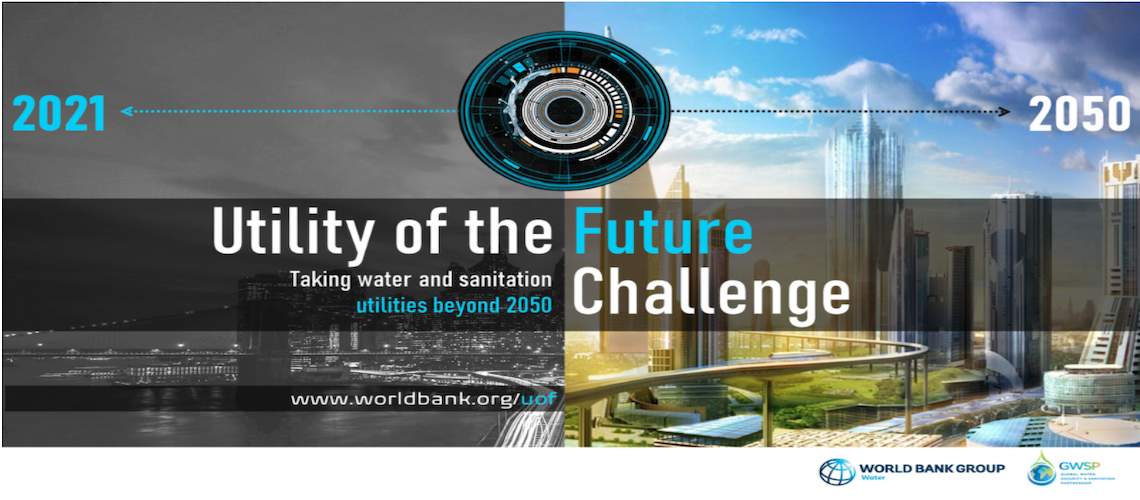 World Bank Utility of the Future Challenge 2021: Delivering Water and Sanitation Services in 2050
Deadline: August 6, 2021
Applications are open for the World Bank Utility of the Future Challenge 2021: Delivering water and Sanitation Services in 2050. The Utility of the Future challenge invites you to imagine the future where water utilities are providing reliable, safe, inclusive, transparent, and responsive WSS services through best-fit practices that allow them to operate in an efficient, resilient, innovative and sustainable manner. 
But the challenge does not stop at envisioning the future; you must also come up with a strategy to fulfill your vision. Put on your thinking cap and help a utility in trouble become a Utility of the Future.
The UoF Challenge
This is the roadmap you must follow – don't worry, you'll have plenty of space to be wildly creative!
Part A: The future today
Step 1: The Utility of the Present – understand your client
Step 2: Tell them about what's cool and trendy and how it can help UOTP-WSS
Part B: Imagine the UoF
Step 3: Imagine the future
Step 4: Back to the present
Benefits
Bragging rights at the upcoming World Water Week hosted by the Stockholm International Water Institute (SIWI) being held from August 23-27;
The opportunity to participate and present your idea at the 2022 World Bank Water Week; meeting World Bank's senior water experts to grow your network and discuss the latest trends in water and sanitation;
Last but not least – being shortlisted for a winter internship with the WB Utility of the Future team so you can help real utilities travel to 2050.
Eligibility
Open to applicants from around the world;
Max 30-years old;
Groups of 2 to 3 people. Make sure your group is diverse and inclusive!
Evaluation
A multidisciplinary team from the World Bank will review and rate the proposals based on the following criteria:
Part A: The future today
Step 1: Selection of the three challenges/areas for improvement based on the assessment given (10%)
Step 2: Identification of innovative practices to address the challenges identified for the utility based on emerging and disrupting trends/technologies (40%)
Part B: Imagine the UoF
Step 3: Narrative about what the water and sanitation utility would look like in 2050 (20%)
Step 4: Action plan to materialize the strategy 2021 to 2050 (30%)
Application
For more information, visit World Bank.