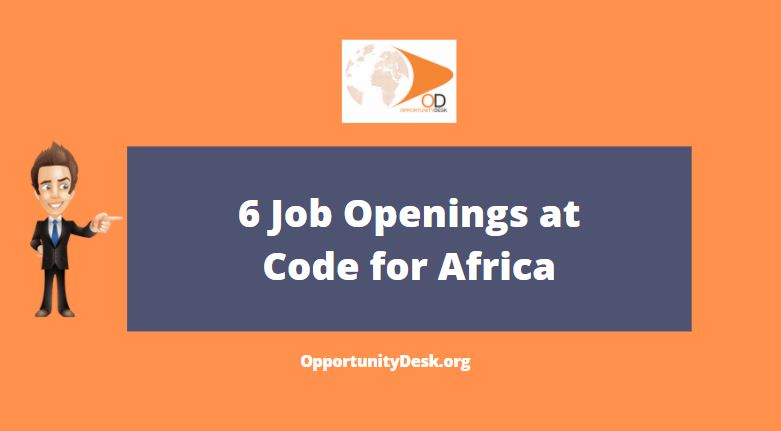 6 Job Openings at Code for Africa
Be part of the Solution. Come build digital democracies with Code for Africa. They have 6 job openings that will require skill set that cuts across different fields.
1. Chief Copy Editor: Lead a Data-driven Copydesk with CfA
The candidate will join their pan-African Knowledge team in one of their primary hubs in Kenya, Nigeria or South Africa. While applicants from these countries will be prioritised, CfA has full-time staff in 21 African countries and is open to exceptional applicants from elsewhere on the continent.
Click here for details | Deadline: July 30
2. Health Editor: Help Shape Evidence-based Health Reporting in Africa
The Health Editor will develop CfA's editorial strategies for tackling major public health issues, building strategic partnerships with major media, identifying and recruiting the best African health reporters as part-time editorial Fellows, and managing the commissioning and production of any resulting health-related data journalism.
Click here for details | Deadline: July 30
3. Curriculum Developer: Help Create Impactful e-learning Experiences
The Curriculum Developer will be CfA's in-house 'architect' for designing the structure for our courseware modules and courses, as well as setting the benchmark for curriculum resources.
Click here for details | Deadline: July 30
4. Senior Program Manager: Build Digital Democracy Ecosystems
The Senior Program Manager provides leadership for both the BizDev and Accelerator teams, with a strong focus on securing new resources through fundraising and growing partnerships that advance CfA's strategic objectives.
Click here for details | Deadline: July 30
5. Senior IoT Engineer: Help Make Cities Better Using Technology
The Senior IoT Software Engineer will join CfA's sensors.AFRICA team to help build digital tools that transform how African cities work.
Click here for details | Deadline: July 30
6. Junior Hardware Engineer: Help Make the Environment Better Using Technology
The successful candidate will report to CfA's sensors.AFRICA manager, and will also work with CfA's wider technology, data, design and content teams in 21 African countries to build robust systems and infrastructures for their partners in watchdog civil society organisations, the investigative media and selected progressive government agencies.
Click here for details | Deadline: July 30
For more job opportunities, visit Our Hot Jobs Page.