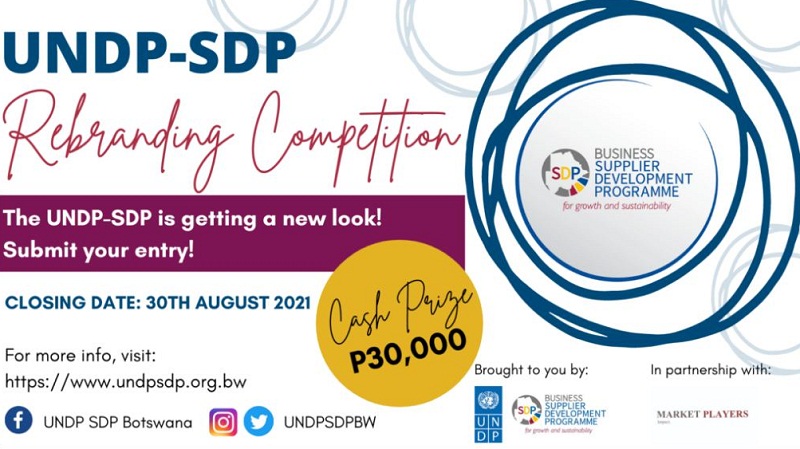 UNDP Business Supplier Development Program (SDP) Rebranding Competition 2021 for Batswana (P30,000 prize)
Deadline: August 30, 2021
Applications are open for the UNDP Business Supplier Development Program (SDP) Rebranding Competition 2021. The main objective of hosting this competition is to develop a new brand identity for the UNDP-SDP, which is easily recognizable.
The UNDP Business Supplier Development Program (SDP) is an initiative geared towards building partnerships with the private sector, in order to diversify the economy, create jobs, and promote the concept of buying locally while connecting globally.
The objectives of the program include development of the productive capacity of SMEs, improving their competitiveness to become efficient and competitive Suppliers to Buyers, creation of demand-based, market-driven opportunities for SMEs to increase their competitiveness, to connect Suppliers to larger markets (locally as well as abroad), and to strengthen the entrepreneurial ecosystem in the country.
Prize
A panel of judges will select the winning logo and the winner of the competition will receive a cash prize of P30,000. The prize is as stated and no other alternatives will be offered.
Eligibility
To be eligible for this competition, participants must meet the following criteria:
Be a Motswana: A Botswana citizen or resident.
Be a young person between the ages of 18-35.
Have a qualification in graphic design OR professional experience as a graphic designer or related field.
Must submit all documents as per competition rules.
Application
Entries must include the following documents to be considered:
Curriculum Vitae including applicant contact details
Copy of Applicant's ID
Branding Kit in single PDF document inclusive of the following:

Proposed Brand Name
Logo design
Tagline proposal
Brand manual comprising:

Brand message – overview of background and key values
Logo usage – detail of where and how to use the logo including minimum sizes, spacing and what to do with it
Colour palette – primary and secondary colour palette with colour breakdowns for print, screen and web use
Typography  – application of font to use and details of the font family, default fonts for web use
Business card and letterhead design – depiction of how the brand and font are to be used for standard company literature
The branding kit must be submitted in PDF format via email to [email protected] with "UNDP SDP Rebranding Competition" in the subject line.
For more information, visit UNDP SDP.