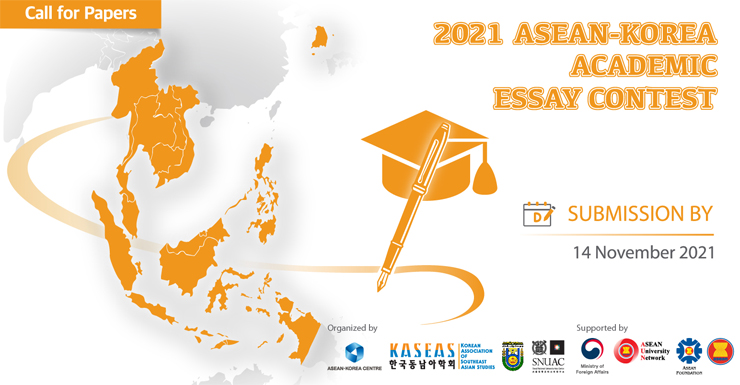 ASEAN-Korea Academic Essay Contest 2021 (KRW 2,500,000 prize)
Deadline: November 14, 2021
Entries are invited for the ASEAN-Korea Academic Essay Contest 2021. The ASEAN-Korea Centre (AKC), in partnership with the Korean Association of Southeast Asian Studies (KASEAS), Universiti Brunei Darussalam, and Seoul National University Asia Center, invites undergraduate and graduate students of ASEAN and Korea nationalities to join the 2021 ASEAN-Korea Academic Essay Contest.
Applicants may write on one of the following three themes:
The role of youth in promoting mutual understanding between ASEAN and Korea towards a sustainable and future-oriented ASEAN-Korea partnership;
Strengthening ASEAN-Korea partnership in overcoming COVID-19 and building back better for greater prosperity in the region; or
Strengthening ASEAN-Korea cooperation in mitigating the impact of climate change and promoting sustainable development in the Mekong region.
Prizes
Grand Prize (1 awardee): KRW 2,500,000
Second Prize (2 awardees): KRW 1,500,000
Third Prize (2 awardees): KRW 1,000,000
Special Recognition (5 awardees): KRW 500,000
Eligibility
Undergraduates and graduates of ASEAN and Korean nationality may participate;
Submissions must be endorsed by an academic advisor (professor or lecturer);
Applicants can submit as an individual or as a team (consisting up to 2 students). For team entries, all members must meet eligibility to participate in the contest.
Bothe the essay and the abstract should be written in English only.
Application
Essay submissions can be made until Sunday, November 14, 2021 (KST).
For more information, visit ASEAN-Korea Contest.