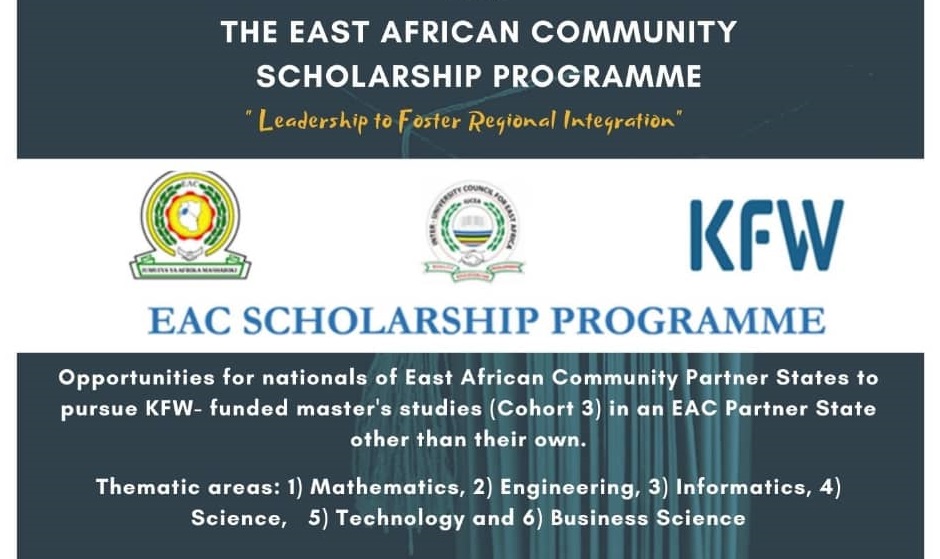 East African Community (EAC) Scholarship Program 2021/2022 (Fully-funded)
Deadline: September 17, 2021
Applications for the East African Community (EAC) Scholarship Program 2021/2022 are now open. The goal of this initiative is to contribute towards training leaders that will foster the EAC Regional integration. This goal will be partly achieved through the establishment of academic collaboration between universities/institutions within the EAC Region, by encouraging students to study in countries other than their own.
In order to achieve these impacts, the project offers a comprehensive package including scholarships for Master's programs, internships, mentoring, networking events and further leadership training activities. The scholarship will support Master's students in Mathematics, Engineering, Informatics, Science, Technology and Business Science programs.
The EAC Scholarship Program is an initiative of the East African Community (EAC) and the Federal Republic of Germany. The project began in 2018 when the EAC Secretariat and Inter-University Council for East Africa (IUCEA) entered into a memorandum of understanding (MoU) with KfW (German Development Bank) geared towards the training of students within the EAC Region. This Project aims at creating future change agents, who identify themselves with the integration agenda of the EAC and are willing to share economic and development-oriented expert knowledge.
Scholarship
Up to 63 scholarships are available in the 2021/2022 academic year. The scholarship covers the following:
Return economy air ticket between the candidate's home and host countries;
University tuition fees: payable directly to the university against official invoice;
Stipend: EUR380 per month to support living expenses including housing, food, utilities, local transportation and settlement expenses;
Allowances for study materials and research: EUR 1,500 one-off allowance;
Medical insurance; and
Extracurricular events: at least one event per year.
Eligibility
Open to young nationals of the EAC Partner States (Burundi, Kenya, Rwanda, South Sudan, Tanzania and Uganda).
Applicants should be aged below 35 years.
Possess at least an equivalent of Upper Second-Class Honours or "Distinction" as applicable.
Have obtained an admission from a university in another country of the EAC Region other than their own.
Application
The application process is two-fold and each MUST be completed separately
Application for admission to the university:
Step 1: Identify the program and University of their choice from section 4 above that contains Eligible Programs;
Step 2: Fill the application form for admission to the university of choice (this can be found on the university website). Ensure you pay the University application fee.
Step 3: Submit the completed university application form and its supporting documents to the university indicating that you intend to apply for the EAC Scholarship Program.
Application for the EAC Scholarship
Step 5: Download the scholarship application form and fill it.
Step 6: Submit the filled application form in step 5 and supporting documents in pdf format as one zipped folder electronically to;

[email protected] indicating the subject line as; YOUR NAME, PROGRAMME APPLIED FOR AND UNIVERSITY e.g. Tsavo Simba, MBA at Adroit University.
Supporting Documents include:
A letter of motivation for applying for the scholarship
Signed curriculum vitae
Certified copies of all university degree certificates and transcripts.
A copy of the university Application Form and its attachments.
A recent passport photograph in colour of your full head and upper shoulders.
Evidence of Nationality of a Partner State in the East African Community such as copy of national identity card/ passport/birth certificate.
Any other form of evidence required in the application form e.g. medical reports, photos and letters of reference.
For more information, visit EAC Scholarship.