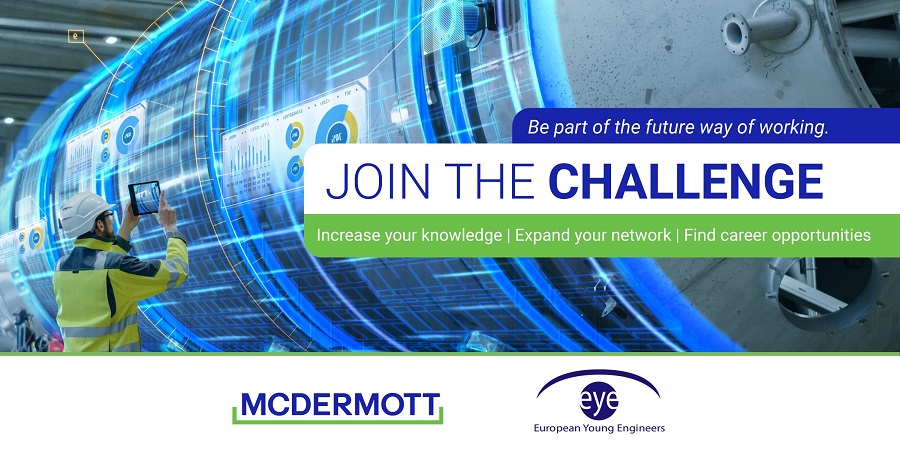 EYE-McDermott Business Challenge 2021 for Engineers
Deadline: September 26, 2021
Are you an early-career professional? Interested in energy transition? McDermott International and the European Young Engineers (EYE) are inviting you to apply for the EYE-McDermott Business Challenge 2021!
The hottest trend in the field of engineering is incorporating Artificial Intelligence with sustainability to reduce carbon footprints making earth still livable for next generations to come. Do you have a solid proposal where AI/ML can be applied on sustainability? Are you interested in Energy transition? Then, you shouldn't miss this once in a lifetime opportunity! Apply Now!
Case Study Topic
Improving project execution in a sustainable way with help from AI/ML
Analysis of AI tools available on the market which can help McDermott to reduce its carbon footprint
Market analysis of AI application in other EPCs
Benefits
Increased knowledge of the energy transition
Insights into a leading EPC company
Experience converting theoretical knowledge into practical skills
One-to-one interaction with industry professionals
Networking opportunities
Strengthened CV
Internship and job opportunities
Being part of a team
Certificate of participation
Eligibility
Open to
People interested in Energy Transition, Sustainability, AI/ML.
People with a Background in Engineering, Marketing, Business development, Data Science or Artificial Intelligence.
Evaluation Criteria
Maturity of the idea
Implementability
Justification of the business case
Team performance
Application
During the challenge, McDermott and EYE will organize open lectures where the speakers will provide insight into project execution strategies in EPC companies and share their experience of executing large-scale complex projects.
For more information, visit EYE-McDermott.