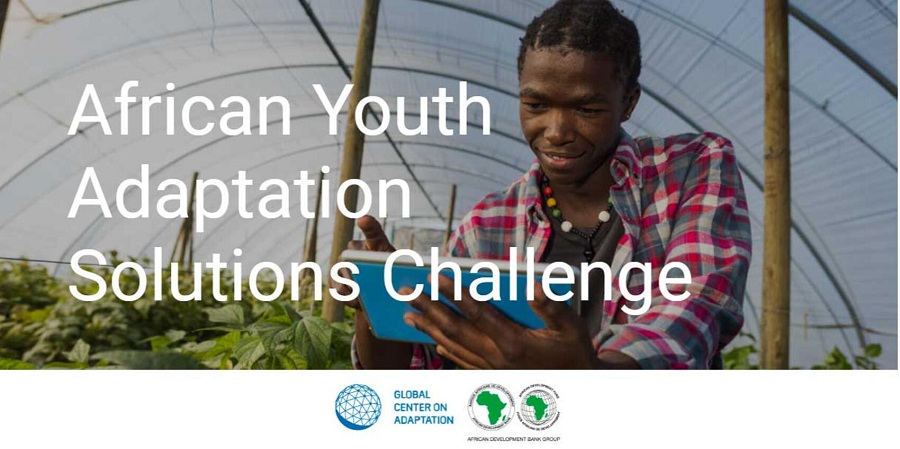 Global Center on Adaptation/AfDB African Youth Adaptation Solutions Challenge 2021 (Up to $100,000)
Deadline: October 6, 2021
Applications for the Global Center on Adaptation/AfDB African Youth Adaptation Solutions Challenge 2021 are now open. The challenge encourages young entrepreneurs, innovators from micro, small and medium-sized enterprises (MSMEs) and other youth-led and youth-owned enterprises in Africa, to implement solutions for building resilience and adapting to the adverse impacts of climate change.
The Global Center on Adaptation (GCA) and the African Development Bank (AfDB) have partnered on a joint mission to accelerate climate adaptation action under the African Adaptation Acceleration Program (AAAP). They believe that young people have a crucial role to play in developing and implementing solutions for building resilience and mitigating the adverse impacts of climate change.
With the African Youth Adaptation Solutions (YouthADAPT) Challenge, the AAAP will inspire and support the commercialisation of climate change adaptation solutions driven by the entrepreneurial drive of African Youth entrepreneurs in Africa. The YouthADAPT Challenge demonstrates the efficacy and equity of involving young African entrepreneurs in adaptation action, the need to support the 'missing-middle' businesses in terms of funding, with winners awarded a business grant as well as the opportunity to further develop their ventures through business support and acceleration.
Benefits
Winners of the YouthADAPT challenge will be awarded a business grant of up to $100,000 each as well as the opportunity to further scale their businesses through 12-month business support, mentorship, and acceleration program.
Eligibility
Enterprises must be:
Youth-led with applicants aged between the ages of 18 and 35 years;
Delivering climate adaptation or resilience solutions addressing real-life challenges;
Legally registered and operating in Africa;
Able to show revenues for at least two years.
50% of the enterprises supported will be women-owned or women-led.
Application
The deadline for application is October 6, 2021. For enquiries, contact [email protected]
For more information, visit YouthADAPT Challenge.