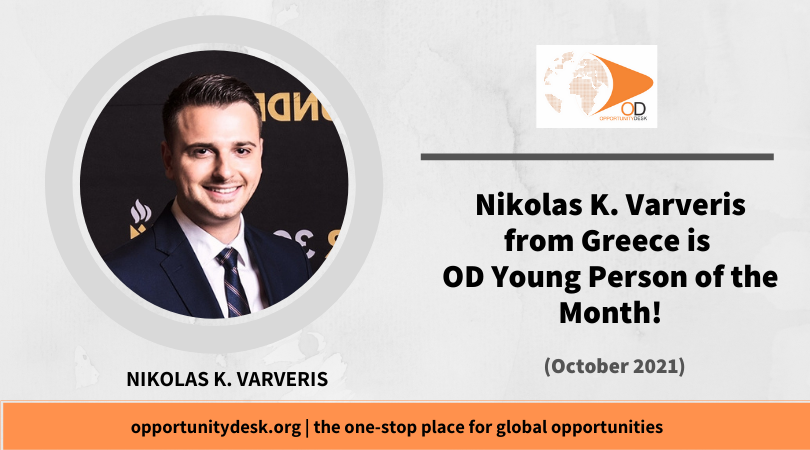 Nikolas Varveris from Greece is OD Young Person of the Month for October 2021!
Welcome to October!
Our Young Person of the Month is Nikolas Varveris from Greece! Nikolas is one of OVIVIEW's youngest partners. He has a background in the fields of International Trade, MBA, Business Coaching and Psychology. As a student he has been the founder and president of the branch of AEGEE Kastoria, Greece, and since his 2nd year, he had taken the position of external collaborator of the Innovation and Entrepreneurship Unit of the University of Western Macedonia, Greece. He has participated in numerous business innovation competitions, winning many notable positions, such as in the Business Seeds competition of the National Bank of Greece, OK! Thess and Venture Garden of the American College of Thessaloniki. In 2019, he won the first prize of the Business Education Awards and in 2020 he was included in the list of under 30 of the Business Elite's Awards. He is a member of the Global Shapers Athens Hub, Mentor in the ALLILLONnet Network and is actively involved in career guidance consulting.
NIKOLAOS VARVERIS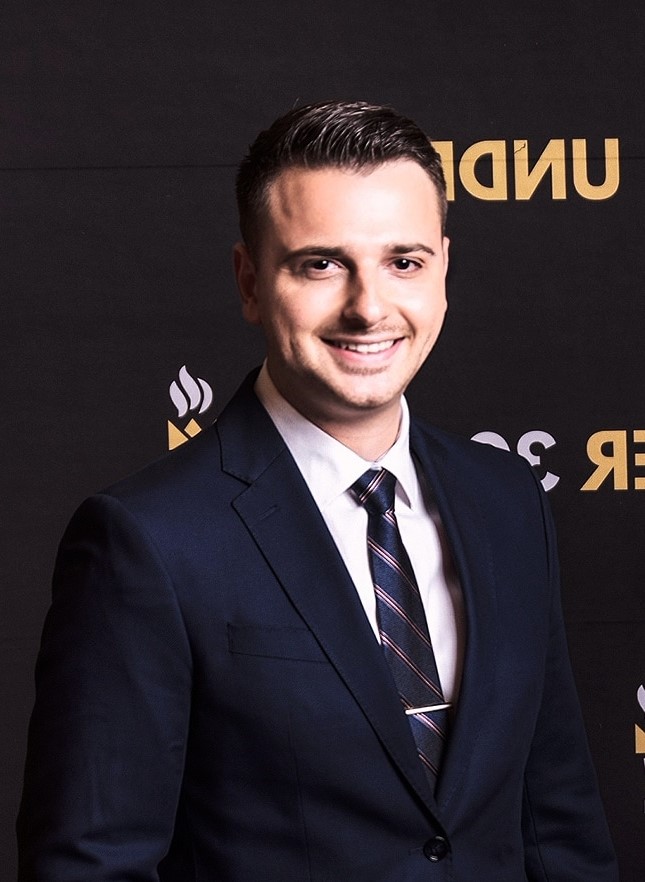 Nikolas Varveris is one of OVIVIEW's youngest partners. He has a background in the fields of International Trade, MBA, Business Coaching and Psychology. He says that the thirst for learning is the value that defines him extensively in his career so far. Ever since Nikolas finished his International Trade & MBA studies in University of Western Macedonia, he focuses on challenging himself and trying to obtain a wide spectrum of knowledge in various management disciplines. He has worked as a manager in Leroy Merlin where he managed to exercise his people management skills as well as organization and team building skills. In his latest career step, working as a BD Manager in ReGeneration, the largest personal and professional development program for young graduates in Greece, he focused on providing guidance and mentoring to people who want to create an innovative career path for themselves and this allowed him to excel his leadership and mentoring skills, which were mandatory skills for OVIVIEW's vision. That position gave him the opportunity to actively participate in the mapping, assessment and training of thousands of young people in his country.
At the same time, he joined forces with Asterios Kritikos to develop OVIVIEW, an online platform (ATS SaaS) for heterotemporal interviews, which facilitates the recruitment process for both employers and young candidates, ensuring objective and equal treatment of candidates, enhancing accessibility and the proper use of their personal data. The platform won first prize in the John & Mary Pappajohn competition and to date has established partnerships with businesses and universities in Greece and abroad. OVIVIEW's comparative advantage, Nikolas says, is its focus on UX alongside the training and penetration of the solution in universities. OVIVIEW launched in its first corporate form in 2014 and with a strategic ally the largest company in Greece in the fields of IT, digital web content creation and education.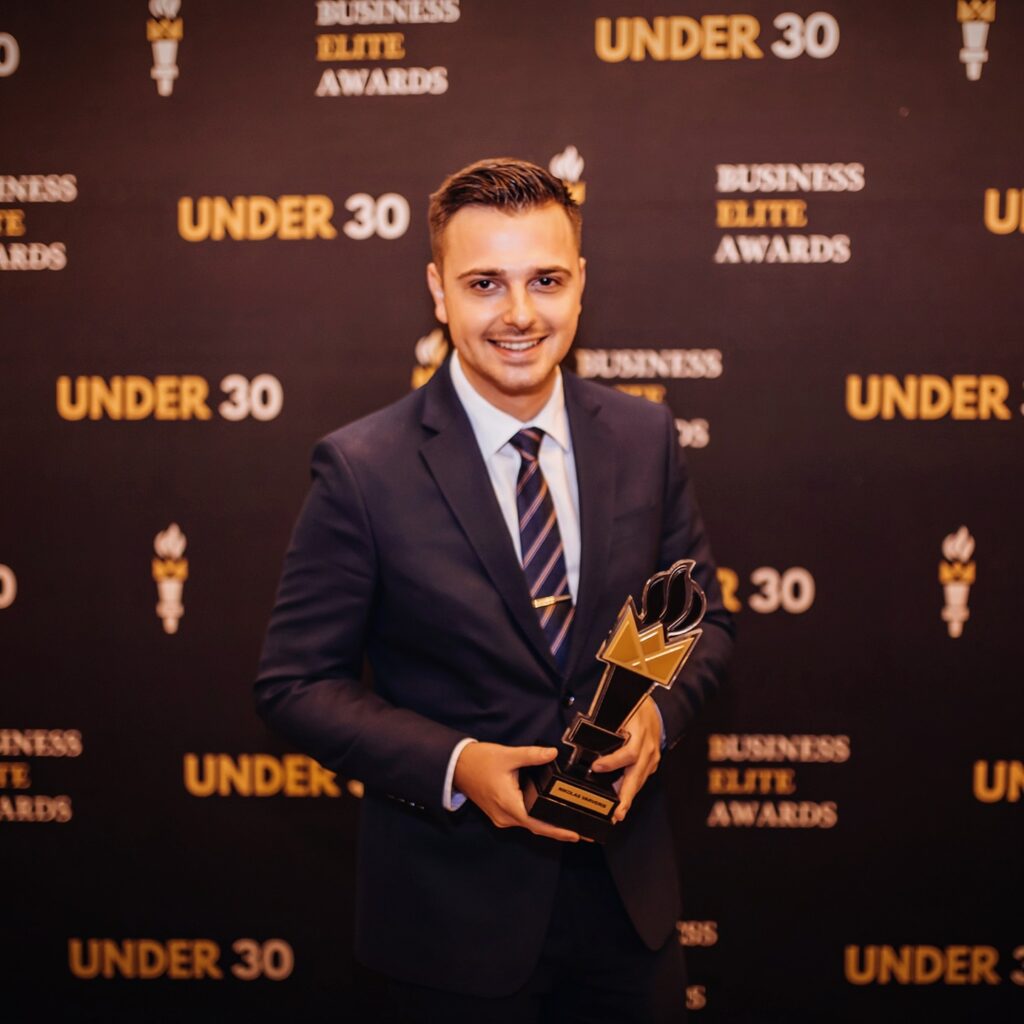 In 2021, OVIVIEW won the first prize in the GSEA innovation competition by the Entrepreneurs' Organization (EO) Greece. Nikolas' correlation of business, people and technology made him join SYNTAX IT GROUP as a Development Coach, a company with more than 35 years of experience in the IT sector in Greece and the Arabian Gulf, while developing InForCoach. A new platform that intends to change the game in the acquisition of work and academic information.
On the Obstacles He Faced
Nikolas says being an entrepreneur in a country like Greece is not an easy task. One of the biggest obstacles he had to face in his career so far was to overpass the numerous obstacles in terms of compliance, originating from the heavy bureaucracy that the Greek state is built upon. In these conditions, he frequently had to face situations in which requesting permission and getting the necessary green lights could result in months of waiting and several visits to a variety of different government entities before the processes finally moved forward. These painful processes allowed him to exercise his 'thinking-out-of-the-box' skills by finding alternative ways to get the job done, push his projects forward while ensuring that he remains fully compliant in every single process.
Tips He Found Useful in His Career
"Throughout my career so far, I always wanted to ensure that my top priority is to be inclusive regarding new ideas and perspectives from my team, my colleagues and my direct management and this allowed me to succeed in the most of the projects I participated in."
"Living in an ever-changing technological and social age, man is called upon to find the "we", focusing on his constant development. At the beginning, I couldn't perceive myself as an entrepreneur, I was just highly energetic and motivated about ideas and I had the tenacity to try again and again. Without having the patience to wait for other people figure things out for me, I was always trying to find solutions and get things done! Growing up with inexhaustible passion, resourcefulness, willingness to improvise and listen to others and strong determination to succeed, is what makes me feel myself, as an entrepreneur. I was never afraid to ask for help and work cooperatively and I believe that "small fails" are the building blocks of success!"
You can learn more about his business OVIVIEW on their website and on Facebook, Instagram and LinkedIn.
Connect with Nikolas on LinkedIn!
Who will be the next Young Person of the Month?
You can be the next Opportunity Desk Young Person of the Month! All you have to do is get a friend to recommend your work or fill out the nomination form here. We want to use the platform to recognize and celebrate the efforts of amazing young people around the world. Oh! And you must be an active Opportunity Desk member, either as a fan, reader or subscriber!Share