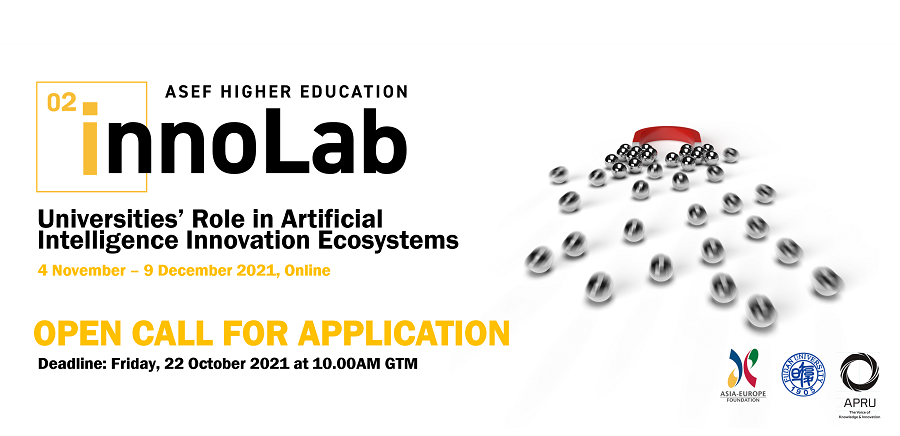 2nd ASEF Higher Education Innovation Laboratory (ASEFInnoLab2) 2021
Deadline: October 22, 2021
Applications for the 2nd ASEF Higher Education Innovation Laboratory (ASEFInnoLab2) 2021 are now open. The ASEFInnoLab titled Universities' Role in Artificial Intelligence (AI) Innovation Ecosystems provides opportunity for participants to exchange good practices, co-create new ideas and explore areas for collaboration among their institutions.
The second ASEFInnoLab is a 6-week long online project, that brings together university managers, administrators and academics to discuss strategies to enhance their role in the development of artificial intelligence innovation ecosystems. In particular, it will tackle the following two topics:
Teaching and Entrepreneurship for AI Innovation Ecosystems
Research and Technology Transfer in AI Innovation Ecosystems
Benefits
Upon successful completion, participants will gain:
Enhanced Understanding of Universities' Role in AI Innovation Ecosystems.
Action Plan to Improve Contribution to Innovation Ecosystems.
Professional Network with Peers in Asia and Europe.
Course Certificate by ASEF and Fudan University.
Eligibility
Open to Managers, administrators or academics in higher education institutions responsible for initiatives related to the ASEFInnoLab topics;
Citizens of any of the 51 ASEM partner countries;
Excellent command of English (written and verbal).
Selection Criteria
When assessing the applications, ASEF and its partners will look for applicants who express strong motivation and are committed to transforming the knowledge and skills gained during the laboratory into action.
Application
Join the ASEFInnoLab2 which will take place online from November 4 – December 9, 2021.
For more information, visit ASEFInnoLab2.