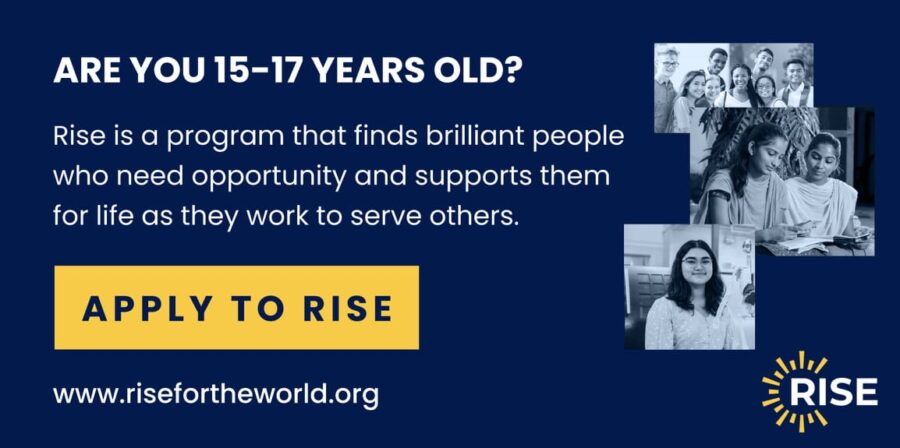 Rise Challenge 2021 for Young Leaders worldwide
Deadline: December 22, 2021
Applications are open for the Rise Challenge 2021. Rise is a program that finds brilliant people who need opportunity and supports them for life as they work to serve others. The program starts at ages 15–17 and offers a lifetime of benefits including scholarships, mentorship, access to career development opportunities, funding and more as Global Winners work toward solving humanity's most pressing problems.
Everyone who applies joins a global community of leaders and gains access to free online courses and opportunities from partners around the world. The program is personalized and flexible, tailored to Global Winners' needs as they evolve over time. They aim to provide Global Winners with individualized support to empower them to achieve their goals while they work to serve others throughout their lives.
Benefits
All Rise global winners receive access to the following benefits and participate in the following programs upon selection:
Residential Summit: An invitation to attend a fully-funded, three-week residential summit with other members of the Rise Global Winner cohort — to be held in a rotating location globally for each new cohort — as well as to join network events in subsequent years.
Mentorship & Career Services: Mentors paired with each Global Winner to provide personal, academic, or professional guidance, and specialized career services for internships and jobs.
Programming: Virtual and in-person leadership and educational courses designed specifically for the Global Winner cohort, and a service commitment made through the Global Winner Pledge.
Global Winner Network: Access to a network of other Global Winners across cohorts to connect on common interests, make service commitments, launch enterprises, and collaborate together.
Higher education Scholarships: A four-year, post-secondary scholarship at any accredited university, including tuition and a living stipend, based on need and where not already covered by financial aid.
Technology: Technology packages, such as laptops or tablets, to be determined each year.
In addition, all rise global winners will have the opportunity to apply for the following benefits over their lifetime:
Partner Network: Opportunity to be matched to programs, secondary school scholarships, internships, and other benefits from partners who are part of the Rise network.
Funding Opportunities: Opportunity to apply for funding to experiment with innovative ideas to address major problems in local communities or around the world — ranging from seed money to start a social enterprise to a grant for a non-profit. Funds will be designated for these purposes in a total pooled amount of at least $5 million per year of the program.
Education Support: Opportunity to apply for scholarship funds for a graduate degree.
Eligibility
Open to applicants from around the world;
They may emonstrate brilliance in a range of disciplines. Some may excel in STEM fields, others may show outstanding artistic ability, and others may have a gift for community service and organizing.
Should be between 15-17 years old.
All Rise Global Winners demonstrate the five Rise Traits:
Brilliance
Perseverance
Integrity
Empathy
Calling
Application
Stage 1: Introduce Yourself – Deadline: December 22, 2021
Talk about your background, your brilliance, and your talents.
Complete your profile
Respond to two questions about your background and passions
Watch and peer review other applicant's videos
Stage 2: Create Your Project – Deadline: February 16, 2022
Complete an individual project that demonstrates your interest, abilities, and drive.
Respond to the prompts, documenting your research, design, and implementation
Fill out the Project Summary
Join the Rise Discord Community (Optional)
Stage 3: Finish the challenge – Deadline: February 23, 2022
See what others are working on and take the Puzzle Quiz.
Watch and peer review other applicant's projects
Take the puzzle quiz. This is not the kind of quiz that you can study for, so just bring yourself and do your best.
For more information, visit Rise.