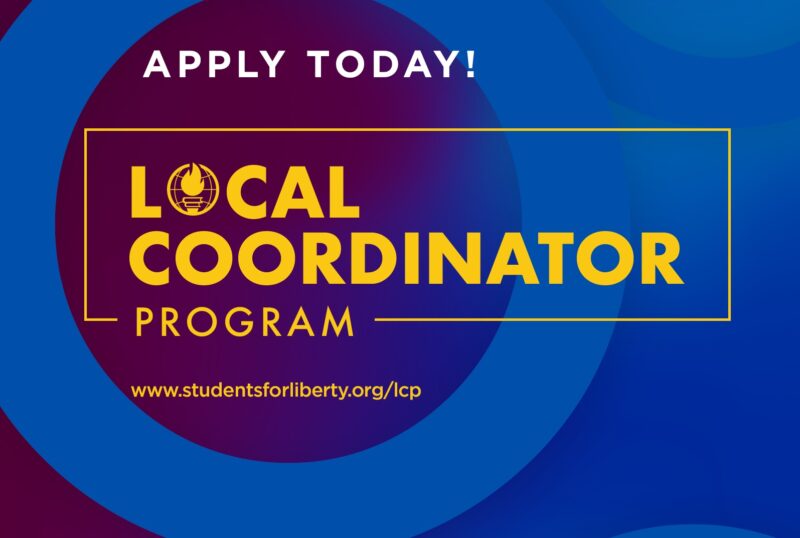 Student for Liberty (SFL) Local Coordinator Program 2021 for Asians
Deadline: November 15, 2021
Applications for the Student for Liberty (SFL) Local Coordinator Program 2021 are now open. Students For Liberty is seeking strong student leaders to spread the ideas of a free society in their communities.
The Local Coordinator Program is a premier program for actively advancing the ideas of liberty in student communities. SFL Local Coordinators (LCs), both undergraduate and graduate students, are the face of liberty on their college campuses.
Students For Liberty is the largest international pro-liberty student organization in the world. Their mission is to educate, develop, and empower the next generation of leaders of liberty. In the FY 2020-21, they trained 3,897 student volunteers globally.
Benefits
Opportunity to be connected and associated with an international movement, consisting of a network of over 2500 students and 100s of partner organizations spread across the globe.
SFL leaders receive professional training on event planning and management, fundraising, recruiting, digital marketing, public speaking, and so much more. SFL will run an online training at the SFL Academy to give you a basic understanding of economic, political & classical liberal principles.
Within SFL global network of enthusiastic young leaders, you'll be able to nurture and share your values with others. Trained leaders will gain access to writing opportunities, leadership programs, fellowships and conferences with SFL's international network of partners.
Selected leaders continue to learn about the pro-liberty movement through attending educational talks, studying liberty online and other intellectually stimulating events. Most engaging leaders will be given advanced leadership training by inviting them to SFL's in-person Leadership Retreats/Fora.
Having grown significantly since its inception in 2008, Students For Liberty has played an important role in the personal development of a large number of alumni. In South Asia, wthey are present in all 8 countries including Maldives and Bhutan.
Eligibility
Open to undergraduate and graduate students;
They must be citizens and resident in any country in South Asia – India, Nepal, Sri Lanka, Bangladesh, Pakistan, Bhutan, Afghanistan and Maldives;
At least 1 year of leadership experience in a pro-liberty student group;
Interest in hosting campus events and keenness in activism;
Ability to manage multiple projects at once;
Looking to develop their own skillsets;
Strong self-motivation to complete projects with little to no oversight;
A passion for the ideas of liberty and for organizing to make the world a freer place; and
Enjoy staying up until 2am talking to other students about how to advance liberty.
Application
Complete the online application. SFL will contact you if you are selected.
For more information, visit Student for Liberty.