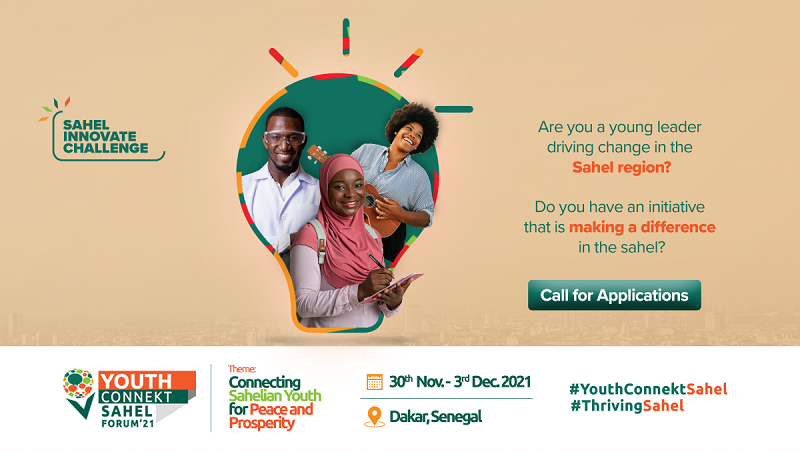 UNDP Africa YouthConnekt Sahel Forum: Sahel Innovate Challenge 2021
Deadline: November 21, 2021
Applications are open for the UNDP Africa YouthConnekt Sahel Forum: Sahel Innovate Challenge 2021. They are searching for 20 exceptional youth from the Sahel Region who will win an opportunity to pitch their innovative solutions to a panel of judges at the YouthConnekt Sahel Forum.
The Sahel Innovate Challenge is a flagship initiative of the YouthConnekt Sahel Forum designed to promote and showcase the innovation and resilience of young Sahelians driving the region's transformation. It fosters an association of creativity and innovation with the region, shifting from the overemphasized conflict and poverty-stricken narrative.
Benefits
Selected applicants will receive:
An opportunity to pitch their solution to business leaders and a panel of judges.
Fully funded participation at the forum.
Eligibility
You are eligible if you:
Are 35 or younger
Have a demonstrable and tested innovative solution (including the number of people impacted) in the Sahel region in any of the following challenge tracks:

Digital Transformation
COVID-19 Response and Recovery
Health
Education
Peace and Security
Cultural and Creative Arts
Agroforestry
Climate Change Mitigation and Adaptation

Are a national and currently residing in one of the UNISS Sahel countries (Burkina Faso, Cameroon, Chad, The Gambia, Guinea, Mali, Mauritania, Niger, Nigeria, and Senegal).
Application
In less than 120 seconds (2 Minutes), record a video introducing yourself, your solution and its impact in the Sahel region.
Instructions for the Video
It should be shot in "landscape/widescreen" mode.
Provide an introduction of yourself – name, nationality and age.
Provide an introduction of your innovative solution – description and impact so far (including the number of people impacted).
For more information, visit UNDP Africa.