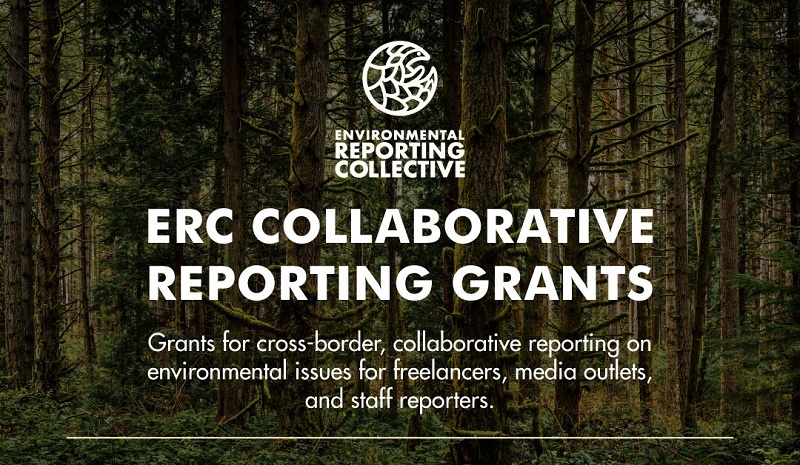 Environmental Reporting Collective (ERC) Collaborative Reporting Grants 2021/2022 (up to $3,000)
Deadline: November 30, 2021
Applications for the Environmental Reporting Collective (ERC) Collaborative Reporting Grants 2021/2022 are now open. These grants are specifically aimed at promoting collaboration, and allowing journalists from different countries to work together to fill in gaps in each others' reporting, especially when tracing environmental crimes across borders.
Funds can be used creatively, and there is no travel requirement. Ideas for how to use funds include:
Translation of documents/sources available in different languages.
Photo or multimedia components to reporting.
Data or document access fees.
Database or resources fees (example – satellite monitoring, or corporate databases)
Translation of final stories into different languages.
For freelancers – compensation for time spent reporting.
Grant
The grant amount is between $1,000 to $3,000.
Eligibility
Applications must include at least two journalists or media outlets from two different countries or regions. Freelancers are welcome to apply.
Proposals must be investigative, and have an environmental focus (you can interpret this broadly).
Applicants must be able to demonstrate how their story would benefit from collaboration.
Application
Application must include:
A one page "pitch" of your proposal with details on your idea, and reporting plan.
A one page proposed budget (you can use the Budget Template)
Resumes for each journalist with links or PDFs of your previous investigative reporting.

For media outlets, data about your reach, audience, and links to previous investigations.

Note: Outlets are strongly encouraged to sign up as a partner newsroom before or when applying, but it's not required and will not jeopardise their application.

For staff writers, a short letter of support from an editor at your newsroom.
For freelancers, links to previously published stories, and names/contact information for 2 editors you have worked with. Optional – a letter of support from an outlet that is willing to publish your story.
Send your application as attachments (PDF, Word, or ODT format) to [email protected] with the subject line Collaborative Reporting Grants: [Your Names]
For more information, visit ERC Grants.