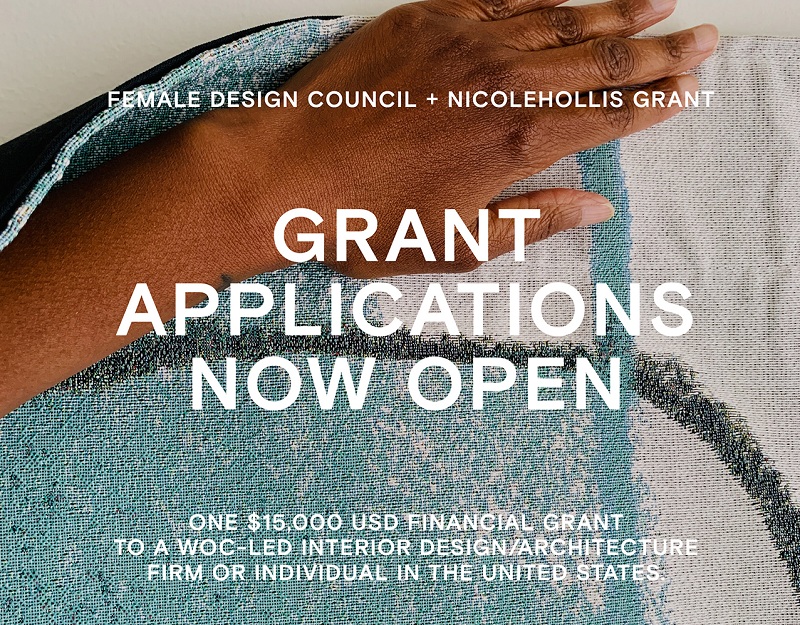 Female Design Council/NICOLEHOLLIS Grant 2021 for Female Designers and Architects (up to $15,000)
Deadline: December 15, 2021
Applications are open for the Female Design Council/NICOLEHOLLIS Grant 2021. The dedicated financial grant is for BIPOC female-identified designers and architects. The grant is intended to provide the necessary financial support to expand company size and/or produce new design collections.
Female Design Council and NICOLEHOLLIS recognize the importance of supporting female-identified creatives, and have pledged to provide direct funding and mentorship to BIPOC women through this unique interior design and architecture grant. The FDC + NICOLEHOLLIS Grant is part of the Female Design Council's ongoing investment to empower and support women of color in design and provide a platform for young people to see themselves through successful role models as well as have a network of other creatives supporting their growth.
Grant
The FDC + NICOLEHOLLIS Grant will award one $15,000 USD financial grant to a WOC-led interior design/architecture firm or individual in the United States.
Grant winners will also receive professional mentorship from the NICOLEHOLLIS team.
Eligibility
Self-identify as a woman of color
Open to designers aged 22+
Designers must be working in interior design or architecture with no more than 5 years into its practice
Must reside and work within the United States
Applicants must be able to receive taxable income in the United States regardless of their citizenship status
Application
Applications are open until December 15, 2021. Late applications will not be considered.
For more information, visit FDC + NICOLEHOLLIS Grant.