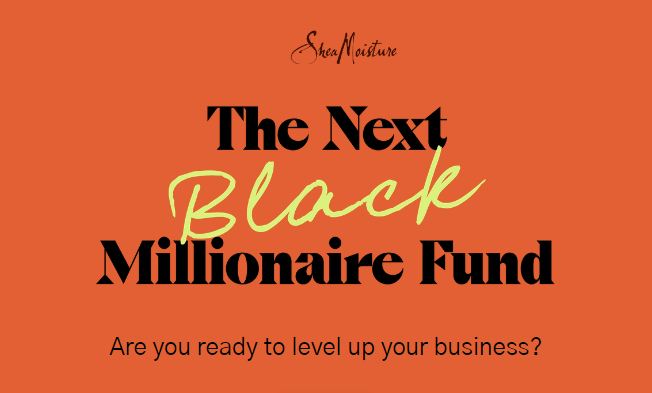 SheaMoisture Next Black Millionaire Fund Grant 2021 (up to $100,000)
Deadline: December 19, 2021
Applications are open for the SheaMoisture Next Black Millionaire Fund Grant 2021. SheaMoisture has been serving Black entrepreneurs and investing in the Black community for decades. They are constantly reimagining their recipe for success.
Unjust barriers exist for Black entrepreneurs, including limited access
to the considerable advantages that generational wealth and privilege provides. A crucial part of their recipe for eradication of the
$11 Trillion wealth gap is supporting entrepreneurs like you.
Apply to grow your business to $1,000,000 with SheaMoisture and New Voices. They are celebrating 30 years of elevating and investing in Black entrepreneurship. Now they want to make three eligible business owners millionaires using their recipes for business success. Will this be you?
Benefits
$100K innovation seed funding;
Retail distribution consultation;
Mentoring and coaching;
Access to an investment pipeline, network building and priority placement in growth accelerators and events;
Selected businesses may also be featured in a SheaMoisture upcoming reality series.
Eligibility
Application must be completed by the business owner;
Must be a registered business;
Must have been in business for a minimum of two (2) years;
Must be at least 51% Black owned;
Must be 18 years of age or older at the time of filling out this application;
Must have evidence of market validation and customer traction;
Must have at least $25K in annual revenue;
Must be based in the 50 United States or the District of Columbia
Application
To submit your recipe, you will need to complete the application in one sitting. Before you begin, create a 90-second video describing your business (include info about you, your products, founding story, business mission, and what sets you apart). You will need to share a link to your video in the application.
For more information, visit Next Black Millionaire Fund.