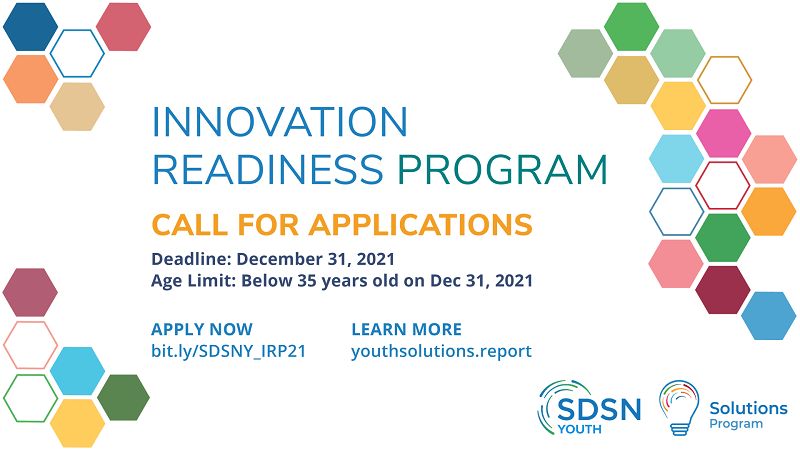 UN SDSN Youth – Innovation Readiness Program (IRP) 2022
Deadline: December 31, 2021
Do you have an innovative idea or a sustainable solution for social and environmental impact? Apply for the UN Sustainable Development Solutions Network – Youth Initiative (SDSN Youth) Innovation Readiness Program 2022. The program calls for youth with innovative ideas that work towards the SDGs, and are looking to scale their solutions.
Each week, participants will join one live, online webinar; complete a component of their investment proposition, and receive personal feedback on their materials from an expert in the field.
The program will be run in collaboration with Babele, an open innovation platform that enables the cross fertilisation of knowledge from stakeholders with different backgrounds, and supports the incorporation of under-utilized ideas, technologies, and information into active innovation processes. This would allow participants to build, scale and track progress of their solutions.
About SDSN Youth
SDSN Youth is one of the world's biggest networks of young leaders working together to accelerate solutions towards the Sustainable Development Goals. They connect young people to pathways of understanding and action – to shape a sustainable world for future generations. SDSN Youth was launched in 2015 by Professor Sachs, at the 5th meeting of the SDSN Leadership Council in Paris.
Over the past 5 years, they have expanded rapidly, with 750 member organizations in 85 countries. Leveraging the work of partners in the UN, academia, civil society, business, and government – SDSN Youth has provided the training and resources to enable thousands of young people to make change. They lead a number of global and local initiatives on education advocacy for K-12; sustainable campuses; sustainable cities; and entrepreneurship. They believe that young people can make a difference in the world, and if we act now, we will create a better and more sustainable future for everyone.
Benefits
The program will provide young innovators with valuable insights from leading experts in the field, personalized 1-on-1 mentoring, and the opportunity to connect with different experts and stakeholders.
Eligibility
Open to early stage, youth run start ups and enterprises;
They should have innovative solutions or ideas that drive towards one or two sustainable development goals to create positive social impact;
Successful applicants would be below 35 years of age by December 31, 2021.
Application
For more information, visit SDSN Youth.