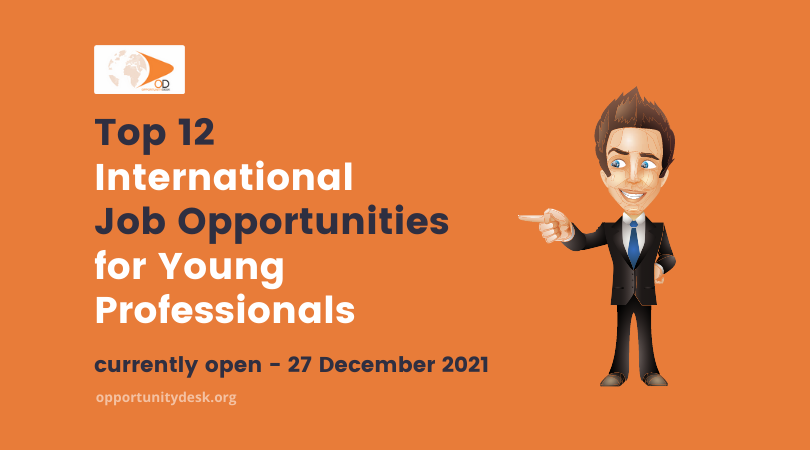 12 International Job Opportunities for Young Professionals currently open – December 27, 2021
Compliments of the Season! Holidays are a great time to search for jobs. This is a time to polish your CV, add the experience you have garnered in the course of the year and put your best foot forward. As the year draws to a close, organisations are re-evaluating staff competencies and performance as they prepare for the next phase. As a result they require fresh addition to their idea pool and workforce.
Take a look at the list of jobs we have for you this week:
1. Director, Arab Region, WAN-IFRA Women In News
The Director, Women in News Arab Region is a senior member of the Women in News leadership team with operational, programmatic and strategic accountability for Women in News Activities in all countries within the Arab Region where the programme is active.
Click here for details | Deadline: January 6
2. Senior Manager, Organisational Processes & Knowledge Management, WAN-IFRA Women In News
This is a senior position within the WAN-IFRA Women in News team with responsibility for the successful establishment and maintenance of organisational and administrative processes as well as knowledge management systems that support a remote, geographically diverse team.
Click here for details | Deadline: December 30
3. Dufil Graduate Trainee Scheme
Dufil is currently receiving applications from young talented graduates who are ambitious and enthusiastic with a mindset to deliver excellent results and exhibit a high level of respect and integrity.
Click here for details | Deadline: January 7
4. Heirs Holdings (HH) Graduate Trainee Program
The Program is a unique opportunity for young and driven talent to immerse themselves in a world of opportunity and growth, to launch successful and rewarding careers. Successful candidates will be assigned to companies across Heirs' diverse Group where they will gain first-hand experience and expertise across their strategic sectors.
Click here for details | Deadline: December 29
5. World Youth Alliance Regional Internship Program
The World Youth Alliance Regional Internship Program provides opportunities for young people who are inspired by the ideas and work of the World Youth Alliance (WYA) to gain professional skills working on WYA's projects and a substantive learning experience on WYA's core ideas.
Click here for details | Deadline: January 3
6. Baker Hughes Early Career Program: Field Engineering
This program is up to 3 years and gets you involved in helping clients locate and produce energy more efficiently. Program graduates have the foundations to make innovative contributions to our future.
Click here for details | Deadline: Ongoing
7. Sankore Fellowship Program
The Sankore Fellowship Program (SFP) is a graduate trainee program designed for young high potential professionals and fresh graduates who have excelled academically and desire to transition into the world of work.
Click here for details | Deadline: March 31
8. Coconuts is hiring an Editor-in-Chief
They are looking for an Editir-in-Chief to grow the audience size and editorial quality of Coconuts by leading the publication of impactful and original stories about Singapore, Bangkok, Hong Kong, Manila, KL, Jakarta, Bali, and Yangon.
Click here for details | Deadline: Ongoing
9. Auféminin Female Video Journalist Internship
They are looking for a journalist intern with an appetite for video, for a period of 4 to 6 months.
Click here for details | Deadline: Ongoing
10. Call for GPN ExpRes Roster – Mental Health and Psychosocial Support (MHPSS) in Prevention and Peacebuilding Experts
This roster would be comprised of vetted, capable and qualified individuals who can be called upon as International Consultants (ICs) to support UNDP's policy and programmatic work related to mental health and psychosocial support (MHPSS) in prevention and peacebuilding and who possess demonstrated capacity in implementing MHPSS projects as part of prevention and peacebuilding.
Click here for details | Deadlne: January 24
11. UN Women's Political Empowerment (WPE) Project Officer
Under the overall supervision of UN Women Deputy Representative, and direct supervision of the Programm Manager, the incumbent exercises responsibility for supporting the planning, implementation, and management of the UN Women's program on Women's Political Participation in Nigeria.
Click here for details | Deadline: January 7
12. UN Women International Consultant to support the development of a Regional Plan of Action for the Association of Southeast Asian Nations (ASEAN)
The main objective of this consultancy is to support ASEAN in the development of an ASEAN WPS RPA and inform relevant stakeholders about the significance of developing and implementing this plan.
Click here for details | Deadline: January 7
For more job opportunities, visit Our Hot Jobs Page.