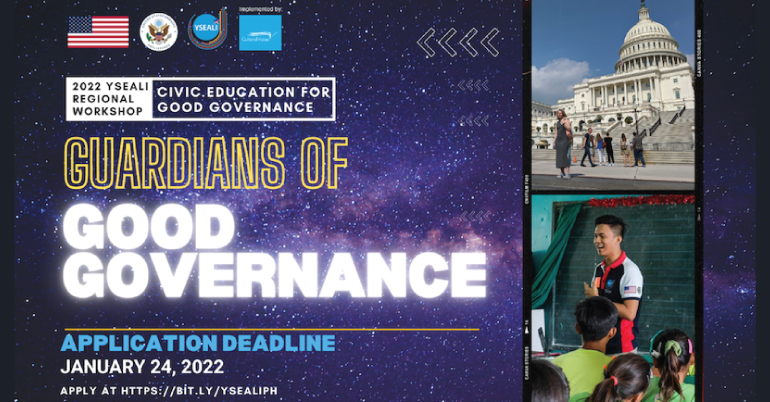 YSEALI Regional Workshop: Guardians of Good Governance 2022 (Fully-funded)
Deadline: January 24, 2022
Applications are open for the YSEALI Regional Workshop: Guardians of Good Governance 2022. The U.S. Embassy in the Philippines, in partnership with Cultural Vistas, will host the 2022 YSEALI Regional Workshop: Guardians of Good Governance.
This fully-funded workshop will include young leaders working on civic education to promote civic participation, good governance, and transparency and accountability in government in ten ASEAN nations and Timor-Leste. The experience will consist of pre-workshop virtual activities offering background on civic education theory, lifelong learning, and best practices in digital engagement strategies; a four-day workshop in Manila, Philippines; and post-workshop virtual engagement to support implementation of post-workshop activities. The goal is for participants to develop a deep understanding of how their efforts can promote citizen engagement in their home communities, nations, and across the region.
Topics and Themes
Introduction: Introduction to practices and resources to support lifelong learning.
Equitable Community Engagement Toolkit: An overview of the elements found in an Equitable Community Engagement Toolkit, an introduction to case studies of civic education projects/campaigns resulted in good governance practices, and introduction to important elements and best practices which lead to a successful outcome.
Project-based Learning: Understanding of project-based learning to envision ways to reach deep into the communities to engage a diverse set of stakeholders.
Development for Campaigns: Guidance in development of digital education and engagement campaigns for civic education projects and campaigns.
Eligibility
All applicants must be 18-35 years old;
Be fluent in written and spoken English;
Be registered members of YSEALI, and be citizens of one of the following countries: Brunei, Cambodia, Indonesia, Laos, Malaysia, Myanmar, Philippines, Singapore, Thailand, Timor-Leste, or Vietnam.
If you are a citizen of one of the listed countries but living outside of Southeast Asia, you may apply for the workshop and join the virtual program. However, flights for the in-person workshop will only be covered for participants currently residing in Southeast Asia.
Successful applicants must be able to demonstrate an interest in, and commitment to, civic education in their local community or nation.
Application
Interested in a Facilitator or Speaker role at the Workshop? Submit your application and state your area of expertise here
Click here to apply as a participant
For more information, visit YSEALI.