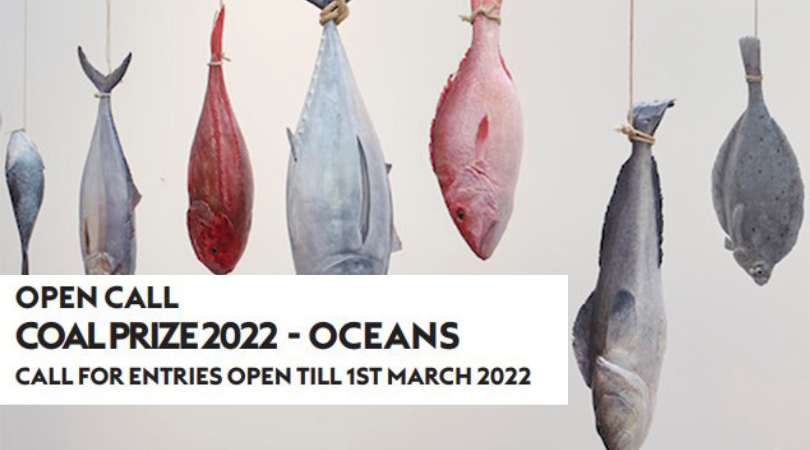 COAL Prize 2022 on the Oceans for Artists worldwide (€10,000 prize)
Deadline: March 1, 2022
Applications for the COAL Prize 2022 on the Oceans are now open. The ocean is our geographic, dreamlike and political horizon. While the United Nations proclaimed the Decade of Ocean Sciences for Sustainable Development 2021-2030, the COAL Prize 2022 invites artists from around the world to explore these submerged universes to make them accessible to as many people as possible; to reveal what is playing out in the belly of the ocean, from its abyss twenty thousand leagues under the sea to its surface, to give to see and feel what is still unknown; and to imagine new concrete actions to rekindle resilience with the water worlds.
Created in 2010 by the COAL association, the COAL Prize has in ten years become a vehicle for the identification, promotion and dissemination of artists all over the world who dare to imagine and experiment, to transform territories, lifestyles, organizations and production methods. Together, they contribute to making changes visible, in building a new collective narrative, a new imaginary world, a common heritage, a positive, optimistic and necessary framework, to help everyone find the means and the motivation to implement necessary changes for a shared and livable Earth.
Prize
The winner of the COAL Prize will be awarded 10,000 Euros and benefits from an (optional) residence run by the Museum of Hunting and Nature at the Belval Domaine, property of the François Sommer Foundation.
Eligibility
Open to artists from anywhere in the world.
The COAL Prize supports artistic projects in progress. Its award is not intended to cover all production costs of the project but should be considered as an aid to its development.
Judging Criteria
Applicants will be judged on the following criteria: artistic value, relevance (understanding of the theme – OCEANS), originality (the ability to introduce new approaches, themes, and points of view), pedagogy (ability to get a message across and raise awareness), social and participative approaches (engagement, testimony, efficiency, societal dynamics), eco-design and feasibility.
Application
The application should include the following documents in a single PDF saved as SURNAME_Name_2022_Project-title, and not exceeding 30 Mb:
The completed application form
A detailed description of the proposed project, describing its artistic dimension, its relevance to the theme OCEANS, including a note on the technical feasibility of the project and a budget estimation
At least two visuals illustrating the project
A CV and a portfolio
All applications are to be submitted by March 1, 2022 at 11:59pm at the latest via the COAL server.
For more information, visit COAL Prize.