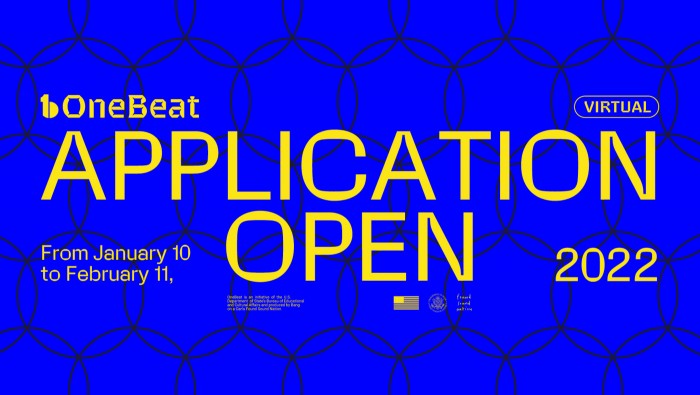 OneBeat Virtual Residency Program 2022 for Musicians and Sound Artists (Up to $1,500)
Deadline: February 11, 2022
Calling all musicians, sonic artists and producers! Applications are open for the OneBeat Virtual Residency Program 2022. The program will digitally convene approximately 35 musicians from up to 50 eligible countries and territories. This fully virtual residency program will take place from July 11 – September 6, 2022.
During this 8-week period, OneBeat Fellows will investigate new forms of virtual collaboration, and work together to write, produce, and perform new musical works. The fellowship involves 28 working days over 8-weeks to allow for both online connection and asynchronous offline project development time. Selected Fellows will attend virtual masterclasses and open-studios, participate in online workshops, and produce a final concert streamed to a global audience.
Benefits
Fellows will receive a $1,500 USD honorarium and a modest per diem for their online participation.
Eligibility
Open to musicians, sound artists, and sonic explorers.
Applicants must be aged 19-35.
OneBeat Virtual Fellows must currently live full-time in one of the 50 eligible countries and territories. They also seek applicants who have not had extensive global exchange and performance opportunities in the U.S. and Abroad.
Applicants should be able to converse in and understand basic English, as it will be the common language of the OneBeat Virtual program.
All Fellows should actively use email and be able to connect to the internet to participate in web-based activities. All OneBeat Virtual Fellows must have access to a laptop or equivalent smart device (with camera) and a reliable internet connection to participate in the program.
Eligible Countries and Territories
Albania, Algeria, Bangladesh, Barbados, Belarus, Bolivia, Bosnia Herzegovina, Brazil, Cambodia, China, Colombia, Costa Rica, Croatia, Cuba, Democratic Republic of Congo, Dominican Republic, Egypt, Ethiopia, India, Indonesia, Iraq, Jordan, Kazakhstan, Kosovo, Kyrgyzstan, Lebanon, Madagascar, Malaysia, Maldives, Mali, Mongolia, Morocco, Nepal, Nigeria, Pakistan, Palestinian Territories, Philippines, Russia, Senegal, Serbia, South Africa, Sri Lanka, Tunisia, Turkey, Ukraine, United States, Uzbekistan, Venezuela, Zimbabwe
Criteria
Musical Excellence – A high level of performance, composition, improvisational, production and/or technological skill. Ideally OneBeat Virtual musicians will be innovating stylistically, lyrically, or technologically within their musical worlds.
Collaboration – Applicants' willingness to reach across cultural and musical divides in creating original music or re-interpreting traditional music, while respecting the essence of each tradition. Applicants should be prepared to try new things musically.
Social Engagement – Musicians who have used music to serve their communities or greater societies. This might consist of guiding young people in music education, addressing social or political issues through musical content, reviving dying musical traditions, and more.
Digital Fluency – Applicants who have experience working, creating and collaborating in digital spaces, demonstrate skill in creating digital media, or show promise engaging and encouraging others engagement in web-based collaboration.
Application
Applications are due by February 11, 2022 11:59 PM EST. Applicants will be notified of the review panel decision by the end of May, 2022.
For more information, visit OneBeat.