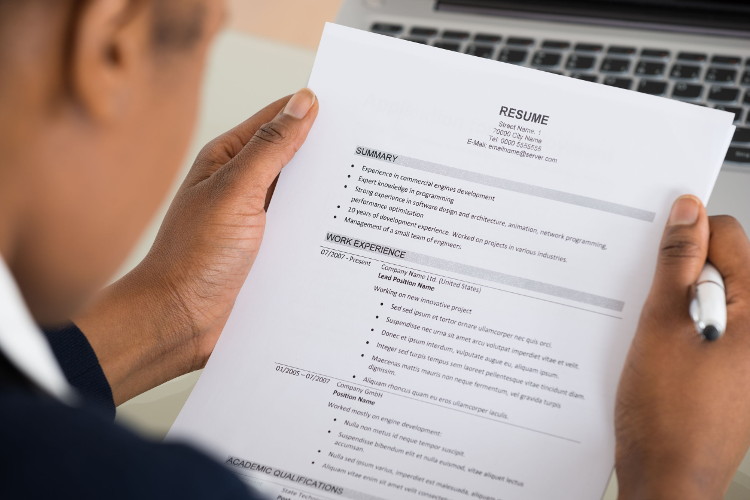 Job Hunting: Why You Need an Outstanding Resume
No matter how much experience you have in the workforce, job hunting can be a nerve-racking process. The job market is highly competitive across all industries, and the global economy has been taking hit after hit lately. The number of people applying for the same position is often staggering. To attract the recruiters' attention and get a job that matches your expectations, you must present yourself in the best possible light. You've built a stellar career that you are proud of, but you don't know how to convey its magic through your resume. Arielle Executive, for instance, offers professional resume writing services that can take this problem off your hands. 
Are you job hunting at the moment? Here is why you need an outstanding resume.
Your Resume Must Pass Through the ATS Filters
Due to the high number of job applicants, many companies use Application Tracking System (ATS) software that automatically filters out resumes based on specific keywords. Thus, your resume must first pass through the ATS filters for a human being to review it. If your resume does not include the right keywords, the hiring manager will never get the chance to see it.
When crafting your resume, pay close attention to every detail and include as many keywords relevant to the job position as possible. Scanning the job posting for clues can be very helpful.
A Resume is A Self-Promotion Tool
A resume is not just a list of achievements, qualifications, and skills. It's a self-promotion tool meant to highlight your potential as a candidate. However, summarizing years of education and professional experience in one or two pages is difficult.
Add relevant details about your skills, training, education, work experience, and professional accomplishments, but be concise. Each word choice matters. Ensure that the person reading the resume understands the value you can bring to their company.
Writing an outstanding resume that allows the recruiter to gain an accurate perspective over your career is not an easy task. However, since your resume is the most important self-promotion tool you have available, you cannot leave things to chance. The easiest option is to seek help. A professional resume writer can help you craft an excellent resume that will get you the job you want.
Companies Are Highly Selective
The job market has changed drastically in the last few decades, so many companies are highly selective today. Without an outstanding resume, it can be impossible to pass the recruitment process.
In the past, employees would stay with the same company for decades, if not for life. Companies were not as selective as today because they could afford to train each new hire. They saw training as a long-term investment since the person would remain in the company for a long time. Today the job market is a lot more flexible. People change positions regularly. So, companies are reluctant to hire anyone who is not already a perfect fit.
Another aspect to consider is that modern jobs require more complex skillsets and qualifications than past jobs. For example, today technical expertise and soft skills are considered critical in many industries, regardless of professional credentials and degrees.
All these changes in the job market explain why companies are highly selective. They want highly experienced professionals with a wide range of skills and aptitudes. You will notice this by looking at the long lists of required qualifications in every job ad.
Few, if any, people can check all the boxes on a recruiter's vast list of requirements. However, do not get discouraged. You may still be considered for the job as long as your resume shows the recruiter your potential.
An outstanding resume should convince the recruiter that you will immediately become valuable for the company.
An Outstanding Resume Grabs Attention
Dozens of people apply for each online job posting, many of them with advanced qualifications. Grabbing attention with an outstanding resume means you have half-won the battle. Even if you don't get called immediately for an interview, there is a high chance that the hiring manager will put your resume aside for future opportunities.
Getting the attention of hiring managers is difficult. They read dozens of resumes for every job opening, so they have seen everything, from terrible to excellent. You want to surprise them with an attractive format and a compelling but concise summary of your career highlights.
Will the hiring manager understand what you have to offer? The answer should always be yes. A masterfully-crafted resume is thus vital.
The Online Job Search is Highly Competitive
Many job openings are advertised exclusively online, so job applicants often send the same resume everywhere to save time. However, this practice is not necessarily productive, especially if you're applying to companies with different values or for job positions with a varied range of responsibilities.
Companies do not want generic resumes. They want to see that you are an ideal fit for their specific position or project. An outstanding resume shows that you are a good match for the company.
You don't need to re-write your resume from scratch for each job application. However, consider moving some things around and re-writing essential sections to emphasize the particular qualifications, skills, and accomplishments that the recruiting manager is most likely to be interested in.
Tailoring your resume for each job is a sure way to stand out from the crowd and ensure that someone will read it. An outstanding resume is one where every detail is intentional.
Key Tips to Consider
See your resume as a form of self-advertisement. What are you offering?
Emphasize how your training, education, and experience will benefit the company.
Make sure your resume reflects your career objectives, not just your past achievements.
Read the job posting carefully to determine which skills and qualifications the company considers a top priority. Make these more visible on your resume.
List your past jobs and your achievements at each particular job.
Read about the company before applying for the job. Thus, you will get an idea about what they might expect from a candidate.
Final Words
Crafting a great resume that perfectly outlines your work experience, skills, and educational background can help you land your ideal job. Your resume should be a clear reflection of your career trajectory, so make sure every detail in it is well-chosen.
For more articles, visit OD Blog.