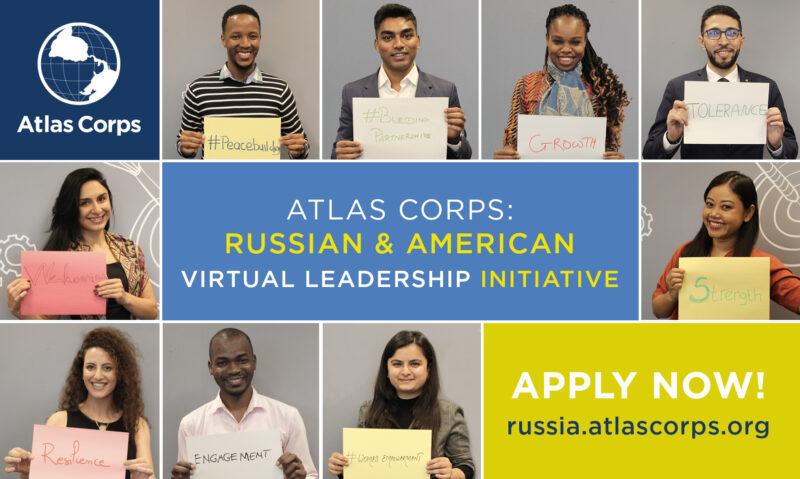 Atlas Corps Russian & American Virtual Leadership Initiative 2022
Deadline: February 15, 2022
Applications for the Atlas Corps Russian & American Virtual Leadership Initiative 2022 are now open. The Atlas Corps Russian & American Virtual Leadership Initiative is an online nonprofit development and training program launched as part of the global Atlas Corps Virtual Leadership Institute.
In the process of learning, its participants (Atlas Corps Scholars) develop professional skills and leadership qualities and establish international contacts. The program is supported by the US Embassy in Moscow and is designed to improve communication and cooperation between Russian and American social workers. In addition, participants will have access to the Atlas Corps international community of 1100+ social leaders from 110+ countries.
Program Details
The program consists of five training modules: Orientation, Developing Self, Developing Others, Leading Movements, Reflection. For five months, you will have sessions with leading social experts from the US and other countries, interactive workshops from American non-profit organizations, discussion groups, networking events and self-study. During the training, attention will also be paid to the topics of intercultural dialogue, diversity, justice and inclusiveness, the development of civil society in the United States and Russia.
Throughout the program participants will also work on their own projects aimed at personal professional development and/or positive social change. Work on projects takes place in small groups with mentors. Participants who successfully complete the training will be able to apply for grants of up to $1,000 to further their projects.
Benefits
100 hours of free professional training;
Access to other training and events organized by Atlas Corps;
Participation in the Atlas Corps international community, which includes 1100+ social leaders from 110+ countries;
Opportunity to receive a grant (up to $1,000 USD) for the implementation of a project developed within the framework of the program and aimed at one's own professional development and/or positive social changes;
Mentioning of participants and their projects in social networks, blog and other Atlas Corps platforms.
Eligibility
Be a US citizen or resident or a Russian citizen permanently residing in Russia;
Have two years of experience in social projects or organizations in the non-profit sector;
Completed higher education (bachelor, specialist or master);
Fluency in English;
Age up to 35 years old inclusive at the time of the program start;
Technical ability to participate in video calls — 1-2 per month (some calls may take place during business hours);
Ability to perform online activities and tasks (approximately 3 hours per week at any convenient time) for 5 months;
The desire to apply the acquired knowledge in their work in Russia or the USA.
Application
The deadline for application is February 15, 2022. Late applications will not be considered.
For more information, visit Atlas Corps.