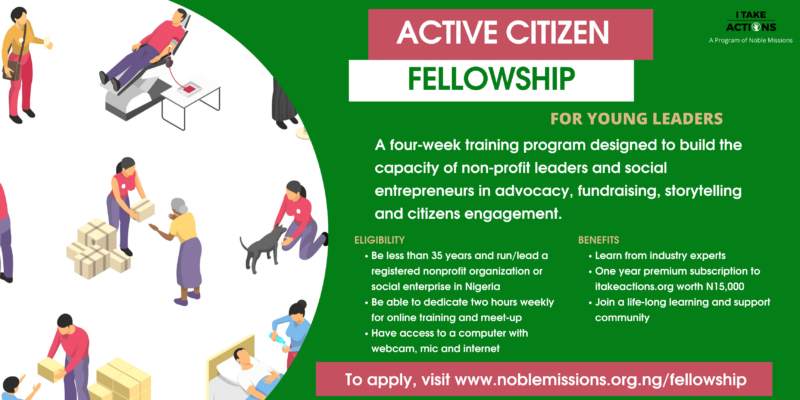 Active Citizen Fellowship 2022 for Young Nigerians (Cohort 3)
Deadline: February 13, 2022
Applications are invited for the Active Citizen Fellowship 2022. The Active Citizen Fellowship is a rigorous hands-on learning program designed for young leaders in Nigeria who have demonstrated passion and commitment in the past to promote democracy and/or improve the quality of life in their communities through their initiatives.
The fellowship offers opportunities for the fellows to learn from skilled and experienced industry experts on how to deepen their impact.
Benefits
Fellows will have the opportunity to learn from highly experienced industry experts. They will spend time carrying out real-life active citizen activities based on what they have learnt.
All selected participants will be given premium access to itakeactions.org for one year, worth N15,000, to run their campaigns and mobilize citizens for support.
Only participants who graduate from the learning phase will be awarded a certificate of completion and added to the life-long learning community of fellows.
Eligibility
Applicants should be no more than 35 years of age;
You run a registered nonprofit organization or a social enterprise in Nigeria;
You can dedicate two hours weekly for online training, and you have access to a computer with a webcam and good internet connection.
Application
They invite all active citizens who have a registered non-profit organization or movement to apply. The call for application will close on February 13, 2022
For more information, visit Active Citizen Fellowship.