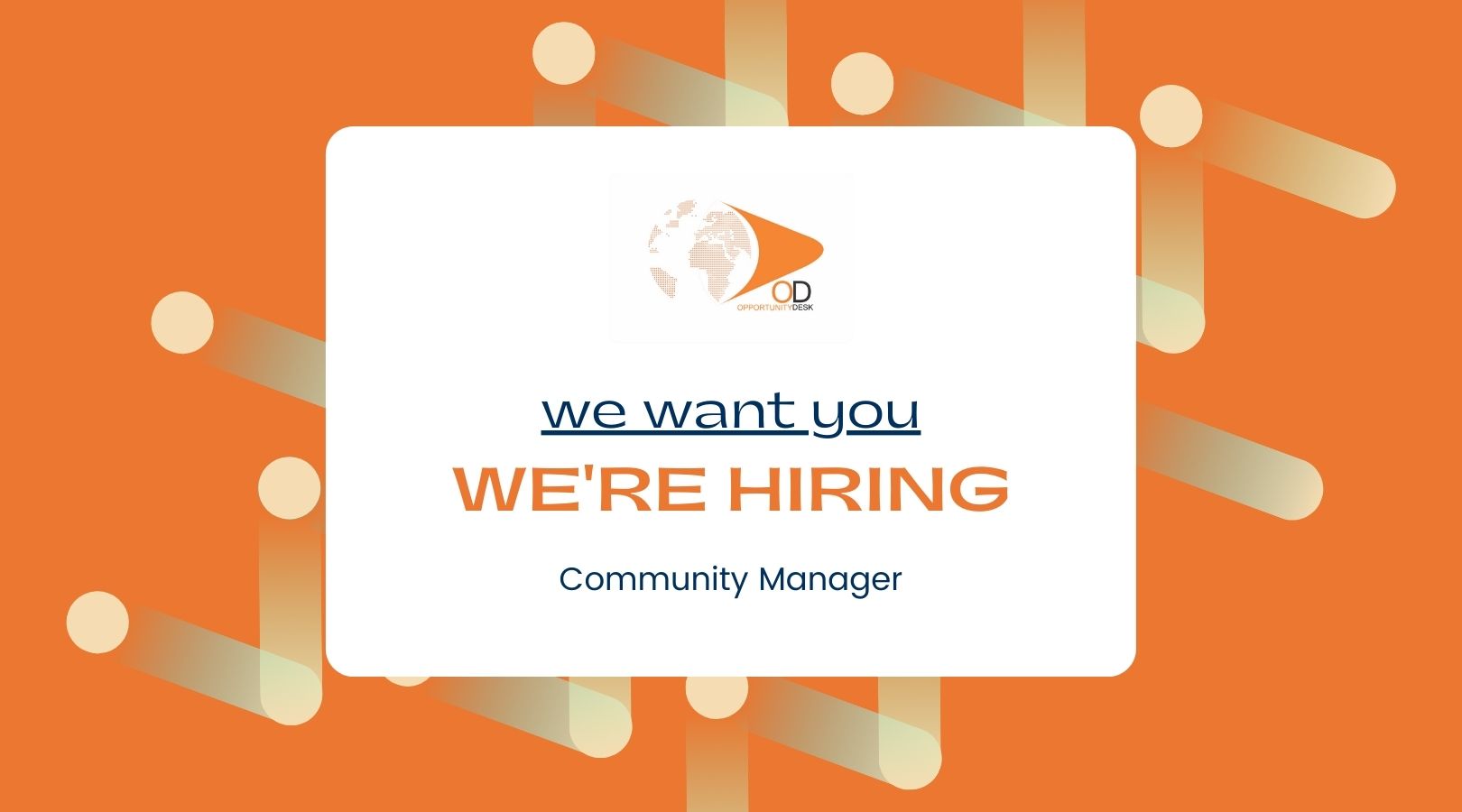 Opportunity Desk is hiring a Community Manager
Deadline: March 7, 2022
Would you like to join an exciting and dynamic team? OpportunityDesk.org is seeking a qualified candidate for the Community Manager position to lead partnerships and community engagement.
Established in 2012, Opportunity Desk (OD) is the largest digital media platform that bridges the gap to education by sharing information on relevant learning and growth opportunities for youth around the world. These opportunities help to facilitate young people's efforts in exchanging ideas and preparing themselves for the future.
Opportunity Desk works to provide access to global experiences to all through educational opportunities abroad, scholarships, training and conferences, fellowships, grants and awards, jobs, internships and volunteer programs. By doing so, the OD hopes to bring an international experience to everybody, regardless of their background, age, disabilities, education, gender identity, racial or ethnic identity, sexual orientation or socio-economic status.
OD is also committed to highlighting and documenting success stories and experiences of young changemakers, offering mentoring, financial support and amplifies their voices through its Mentorship Program, annual Impact Challenge and Young Person of the Month series.
Responsibilities
As the Community Manager, you will:
Establish partnerships with leading organisations
Oversee the OD Mentoring Program and other initiatives
Develop strategies for engaging the OD community
Communicate with external entities such as partners, sponsors, ODIC winners, OD YPOM, program alumni etc.
Collate and highlight success stories of members of the community
Prepare graphic materials for publication
Organise events, online activities and engagements
Work closely with the Chief Editor and Content Director
Carry out other duties assigned
Remuneration
This is a paid position. The remuneration is commensurate with work and delivery.
Eligibility
Applicants may be from anywhere in the world. Preference would be given to those based in African;
Be between 18 and 35 years;
Must be willing to carry out duties assigned;
Must have a working laptop and access to good internet connection;
Must be a team player;
Must be fluent in English. Knowledge of another recognized UN language is an added advantage.
Application
To apply, prepare the following materials:
An up-to-date CV
Motivation letter, stating previous experience in similar role and why you are the best pick for the position.
Applications sent via email will not be recognized.
Successful applicants will be invited for an interview with the OD Team in mid March. The selected candidate will undergo a hand-holding process before assuming the role fully.
For more jobs, visit our Job Page.