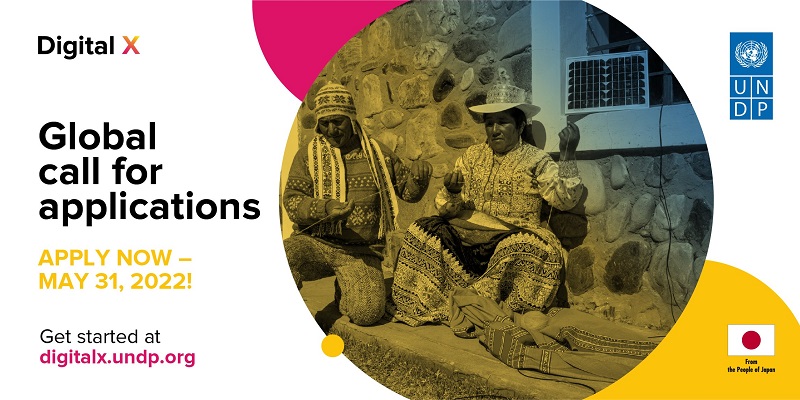 Call for Applications: UNDP Digital X Global Catalogue 2022
Deadline: May 31, 2022
Are you from a UN organization, nonprofit, social enterprise, or a university with a ready-to-scale digital solution? Apply today to join the UNDP Digital X Solutions Catalogue 2022.
Digital X is a Partnerships for Scale Program developed by UNDP Chief Digital Office to find, match, and scale proven and innovative digital solutions around the world to accelerate impact — where it is needed the most.
Benefits
Projects selected in the Digital X Solutions Catalogue will have:
The potential to work with UNDP and governments in the 170 countries where UNDP operates.
The possibility to impact hundreds of thousands or even millions of lives.
Greater credibility to talk with governments, UNDP Country Offices, and impact investors.
Global exposure with UNDP partners.
Support in adapting the product to become Open Source, a Digital Public Good, or a white-labeled UNDP digital product, which can create new revenue models or new paths to scale.
Optional introductions to UNDP field experts and technical advisors as well as matching with mentors from the DIGITAL X Network.
Invitation to matchmaking calls with UNDP Country Offices to develop proposals and apply for funding together, including up to $100,000 with Digital X funds.
Eligibility
Any team with a proven, ready-to-scale digital solution can apply to a Digital X Global Challenge and be listed in the Digital X Solutions Catalogue. This includes UNDP or UN teams with digital solutions, registered social enterprises, universities, private sector companies, NGOs, and nonprofits.
Only UNDP Country Offices can apply for funding (either individually or multiple Country Offices can apply together).
Application
Applications for the Digital X Global Challenges and Digital X Solutions Catalogue will close on May 31, 2022.
For more information, see FAQ and visit UNDP Digital X Global Catalogue.