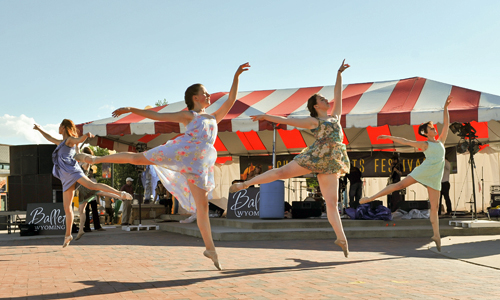 Wyoming Performing Arts Fellowships 2022 for Artists in the U.S. (up to $3,000)
Deadline: June 9, 2022
Applications for the Wyoming Performing Arts Fellowships 2022 are now open. The Performing Arts Fellowships are awards of merit that are given in honor of excellence in the artists' field.
They are juried by noted professionals in the field based on appropriate media samples and artist statements. A total of 4 fellowships are to be awarded. 2 fellowships will be given in the category of Music and 2 fellowships will be awarded in the category of Theatre and Dance.
Benefits
You'll receive $3,000 up front.
Eligibility
Applicant must be at least 18 years of age at time of application.
Must not be a full-time student pursuing high school, college, or university art-related degrees.
Must be a U.S. citizen or have legal resident status (evidence of U.S. citizenship, resident status and state residency may be required).
May not be affiliated with the Wyoming Arts Council either as a board member or staff member, including their families, whether full-time, part-time or contractual.
May not be an employee of the Department of State Parks and Cultural Resources.
Must have been domiciled within the state borders for a total of 20 months in the previous two years.
Must remain a Wyoming resident for at least one year after award, living in the state for at least 10 months of the year.
Must not have received a Performing Arts fellowship within the last four years.
May receive a total of two fellowship awards in your lifetime.
You may enter the competition only once by the deadline.
You may only enter the competition in one category (Music -or- Theatre and Dance).
Submission Guidelines
Music: Applicants may apply as either a composer or a performer. Solo, chamber, or orchestra/large ensemble works for any combination of instruments and/or voice (including electronic and electro-acoustic works), and including independent musicians, singer-songwriters, Native American, folk, traditional, and world music will be considered.
Theatre and Dance: Applicants may apply as either a creator or a performer. Dance or choreography (any style or genre), theatre or musical theatre works, technical theatre (lighting, set, or costume design), storytelling, and directing will be considered.
Application
The deadline to apply is to June 9, 2022.
All submissions must include:                   

If available, reviews of your work
A maximum of 5 work samples that best demonstrate the applicant's work must submitted in the correct format. Documents, images, audio, and video files will be accepted, or a combination thereof.                                  

Each work sample must include a written statement explaining your concept/choices/process for the works submitted as examples; This statement must also include context (i.e. did you compose/choreograph/direct the piece or are you performing the work?).
Those applying as either a composer or creator must submit original work created within the past 5 years.
Performances may be original works or performances of other works (not original) that were performed within the past 5 years.

If performing in the work of another artist, you must credit the artist and indicate that permission has been granted.
Fellowships are awarded to an individual; however works samples of group performances will be accepted for demonstrative purposes as long as the individual applicant is clearly identified.
For more information, visit Performing Arts Fellowships.