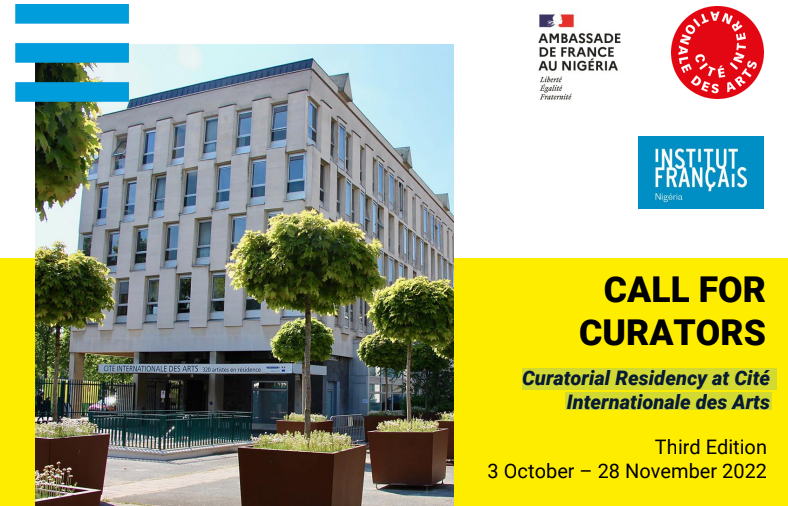 Call for Curators: 2022 Curatorial Residency at Cité Internationale des Arts – Paris, France (Fully-funded)
Deadline: June 19, 2022
Applications are invited for the 2022 Curatorial Residency at Cité Internationale des Arts. The Curatorial Residency is organized by Institut français du Nigéria, the Embassy of France in Nigeria and their Paris-based partner, Cité Internationale des Arts and will take place during two months in October and November 2022.
The residency is designed for Nigerian curators and art critics, aged over 23 years old, residing in Nigeria with proven professional experience in curating art events. The aim of this program is to support the young generation of Nigerian curators and art critics and enable them to develop a curatorial project, new artistic opportunities and collaborations with artists in residence at the Cité Internationale des Arts.
Cost
The Residency fees are fully covered: transportation, monthly allowances, and accomodation.
Eligibility
Open to Nigeria based candidates of any sex;
Aged over 23 years on January 1, 2022;
Curators or Art Critics working in the areas of: Visual Arts – Architecture – Design – Digital Arts – Multidisciplinary – Photography.
Judging Criteria
Applicants will be mainly judged on:
The creativity of their proposals including one or more art disciplines.
Their experience in the field and especially their technical skills.
Their trans-disciplinarity.
Their portfolio's design and presentation.
The anticipated working schedule during the two months residency.
Their artistic connections in France.
Application
Make sure you have all the required documents:
A file presenting one or more recent projects representative of your curatorial work (5 to 20 pages)
A Resume with your academic and professional background (maximum 4 pages)
A statement explaining the research angles that you want to develop during your art residency (maximum 2 pages)
A residency brief with a list of artists, experts or cultural institutions with whom you wish to collaborate (maximum 1 page)
One of the following files: a text (1 page), video (3 min) explaining your curatorial approach OR a video link representative of your work OR a letter of recommendation supporting your curatorial project at Cité Internationale des Arts OR an Internet link of your conferences or symposia.
For more information, visit Cité Internationale des Arts.