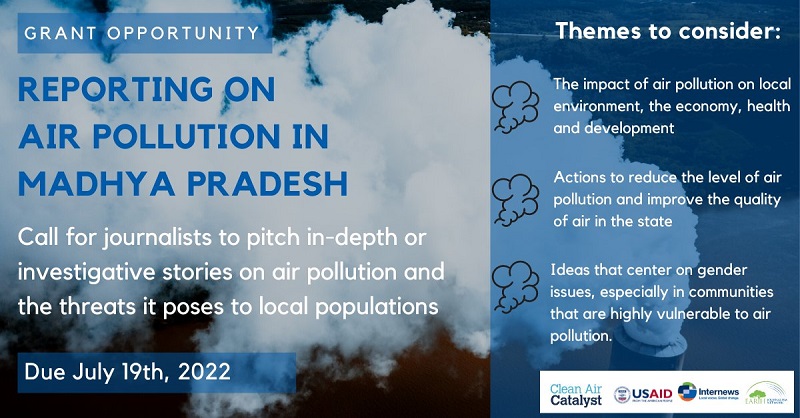 EJN Clean Air Catalyst Story Grants 2022: Reporting on Air Pollution in Madhya Pradesh, India
Deadline: July 19, 2022
Applications for the EJN Clean Air Catalyst Story Grants 2022 are now open. Internews' Earth Journalism Network (EJN) invites journalists from India to apply for a story grant to report on air pollution in Madhya Pradesh.
Internews' Earth Journalism Network has joined Clean Air Catalyst, the U.S Agency for International Development's (USAID) flagship program led by the World Resources Institute and Environmental Defense Fund to accelerate clean air solutions by working with communities around the world to identify and raise awareness of local pollution sources, and to build focused coalitions which deliver interventions leading to cleaner, healthier air. The five-year program will build capacity for tailored, self-reliant solutions that reduce air pollution and improve human health in developing countries. Indore is one of the three cities where the project is being piloted.
As part of this project, EJN is offering story grants and mentorship to journalists in Madhya Pradesh to improve the quality and quantity of coverage of this issue.
Story Themes
They welcome story ideas that focus on air pollution, especially in Indore and surrounding areas and the threats it poses to local populations. Journalists may explore the impacts of air pollution on local environment, the economy, health and development, among other topics. They welcome solutions-driven story pitches that focus on actions to reduce the level of air pollution and improve the quality of air in the state. 
They are particularly interested in story ideas that aim to report on air pollution in a gender-sensitive manner and ideas that center on gender issues, especially in communities that are highly vulnerable to air pollution. Ideas that have already received a lot of media coverage or don't include gender perspectives to air pollution challenges are less likely to be selected. They aim to support the production of stories that raise awareness about air pollution among communities and policymakers at the local, national, and regional level.
Grant
They expect to award up to 14 grants with an average budget of $1,000 each.
Eligibility
Applicants can be from anywhere in India; applicants from Madhya Pradesh are preferred. Journalists who had previously participated in the Clean Air Catalyst media training workshop held in Indore in May 2022 will be given preference.
Groups of journalists are eligible. However, the application must be made in the name of one lead applicant. Lead applicants are responsible for communicating with EJN and receiving funds on the group's behalf, if awarded.
For the purposes of this grant opportunity, they will be accepting applications in English and Hindi. Selected grantees can produce stories in English or Hindi.
Applications are open to journalists working in any medium (online, print, television, radio) and other expert media practitioners with professional reporting experience. They welcome applications from early-career journalists and experienced reporters with a track record of covering air pollution. They encourage applications from freelance reporters and staff from all types of media organizations – international, national, local and community-based.
Judging Criteria
Applicants should consider the following points when devising their story proposals.
Relevance: Does the proposal meet the criteria and objectives of the call? Why does this story matter and to whom? Is the main idea, context and overall value to the target audience clearly defined?
Angle: If the story has been covered, does your proposal bring new insights to the topic or offer a fresh angle?
Impact: Does the proposal have a compelling narrative or investigative element that will inform and engage, draw attention, trigger debate and spur action?
Innovative storytelling: The use of creative approaches, multimedia and data visualization will be considered a plus.
Plan for timely publication: Reporters, whether freelance or employed at a media outlet, will need to include a letter of support from an editor in their application, committing to publish the stories by the end of September.
Application
For more information, visit Clean Air Catalyst Story Grants.