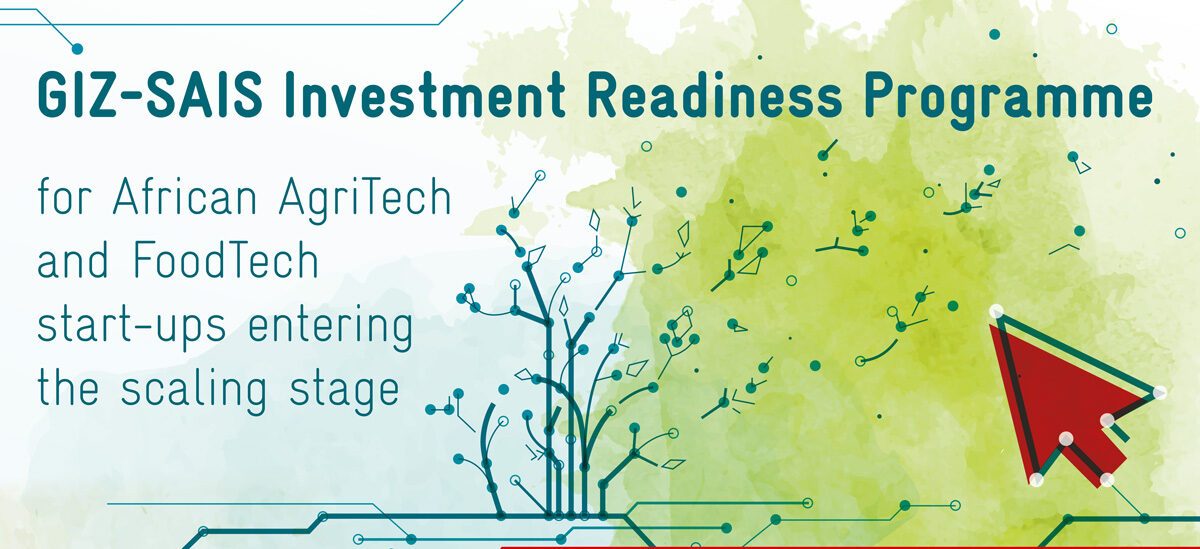 GIZ-SAIS Investment Readiness Programme 2023 for African AgriTech and FoodTech Startups
Deadline: October 31, 2022
Are you running a tech start-up and want to challenge the status quo of the agriculture and food tech industry? Do you have a solution that makes the industry more sustainable and profitable while at the same time empowering value chain actors? Do you want support to learn how to raise investment, reach more customers, and have a more significant impact? Apply now for the GIZ-SAIS Investment Readiness Programme 2023.
The SAIS Investment Readiness Programme (IRP) offers African tech start-ups from the agriculture, food, and livestock sectors a year-long tailor-made support programme to make you investor ready and scale up your business.
Benefits
The Investment Readiness programme includes:
Weekly advisory and coaching sessions held virtually during which strategies and measures for rapid growth and scaling, product improvement and innovation, leadership and business management operations are developed and implemented with the startups.
Based on the startup's commitment, access to additional services to optimize certain segments (e.g. legal advice, marketing, coding, product optimization, etc.) of the startups.
Integration of the selected startups in one partner hub in their home country in order to facilitate their visibility and establish contact with relevant actors in the local startup scene.
Access to investors and business partners from the GIZ-SAIS network.
Add-on services for female entrepreneurs.
Up to three in-person meet-up events. At the moment the plan is to start the IRP with a big SAIStival Event in Nairobi, Kenya which will serve as a Demo Day for the current cohort and as kick-off workshop for the new 2023 cohort.
Eligibility
You have to be registered and operate in Africa;
You have to provide a certificate of registration;
You must have a founding team of at least two people who work ideally full time for the start-up;
Your founding and management team should have entrepreneurial and technical experience in their area of operation;
You must have a viable digital product that positively impacts the incomes of its customers;
Your product must have a positive impact on the African AgTech, FoodTech or livestock sector (vertical sectors that have an influence can be accepted like eCommerce, FinTech, Logistics, EdTech etc);
You must have launched your digital product at least six months before the application period;
Your start-up has to provide evidence of traction (customer base, first revenue);
Your start-up should have an easily understandable and convincing business model;
Your start-up should have a clear statement of the problem, clear digital solution, clear customer segment, and clear revenue stream;
You have women in your founding team or as senior managers.
You or one of your founding team members has an IT background.
You and your founding team members have previous start-up experience;
With your product you target a vulnerable group of customers.
Application
You can apply in English or French:
For more information, visit GIZ-SAIS Investment Readiness Programme.