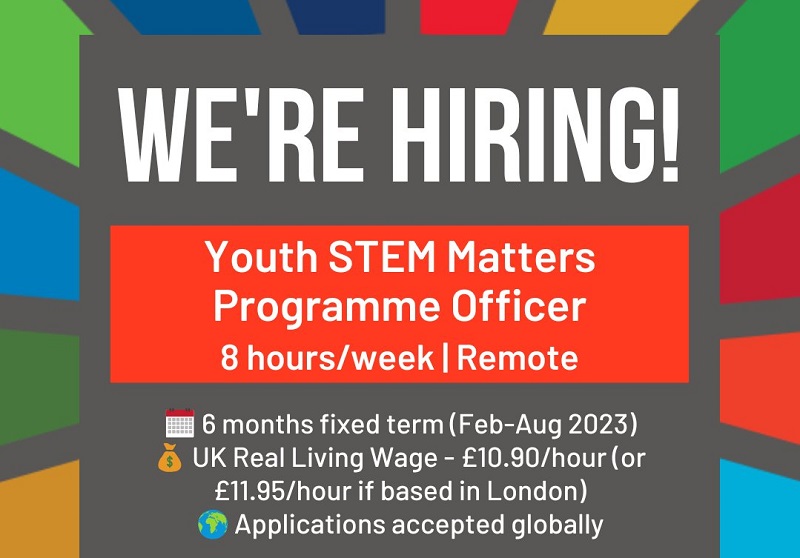 Hot Job: Youth STEM Matters Programme Officer
Deadline: January 11, 2023
Applications are open for the position of Youth STEM Matters Programme Officer. Joining the team at Youth STEM 2030 as a Youth STEM Matters Programme Officer is an exciting opportunity to develop the programmes they create for young people through Youth STEM Matters, a youth-led scientific journal.
This role will focus primarily on increasing the journal's long-term sustainability and impact. This includes forging and leveraging partnerships with other organisations, and building the Youth STEM Matters Team's capacity through skills development and community development, during a time of change within this project. Ultimately, this role will give more young people a platform to share their STEM-based research, ideas and innovations which tackle the world's biggest challenges, such as climate change, poverty and inequalities.  
As a Youth STEM Matters Programme Officer, you'll play a key role in increasing the reach and impact of their programmes, forging partnerships with other organisations, and providing support to the 60+ young people around the world who form the Youth STEM Matters Team to enable Youth STEM Matters to be an impactful and accessible platform for youth. They are looking for someone who is proactive, can effectively build relationships with a range of corporate, non-profit and educational stakeholders, as well as diverse young people, and can bring a community-focused approach within the Youth STEM Matters Team to create a self-sustaining positive community. 
Responsibilities
This is a varied role, where you'll provide support to a diverse team of youth volunteers, build impactful and inclusive programmes for young researchers, innovators and changemakers, and build partnerships to increase Youth STEM 2030's impact. As a Youth STEM Matters Programme Officer, you will:
Elevate Young People's Voices
Youth STEM Matters Team Support & Development
Contribute to Programme Growth and Development
Community Development
Coordination of International Advisory Group
Salary
UK Real Living Wage – £10.90 per hour (£11.95 per hour if based in London)
Eligibility
You'll excel in this role if you are passionate about empowering and supporting young people, and building inclusive and impactful programmes.
You enjoy working as part of a diverse team of youth, and be passionate about giving young people a platform to share their STEM research, ideas and innovations, taking action to tackle the world's biggest challenges through STEM.
They are looking for someone who is eager to get stuck in and is able to bring their own ideas to the team.
Above all, you should be a proactive team player, who is ready to learn and extremely self-motivated.
Essential Skills, Attributes and Experience
The ideal candidate is/can:
Able to take a proactive approach, with an ability to work on your own initiative, problem-solve to find solutions to challenges and share your creative new ideas.
Keen to learn and continuously improve. A lot of the work they do as an organisation involves 'learning by doing', so the successful applicant will have a positive attitude towards working on a range of projects and tasks, and receiving constructive feedback.
Have excellent organisational skills with the ability to plan projects to achieve a goal, manage your time and workload effectively, and handle competing priorities.
Are good at working and communicating transparently and able to communicate effectively in English with a wide range of people; you can support a diverse group of young people and effectively build relationships with partners.
Committed to working proactively to ensure global representation, and that all activities and outputs are inclusive and accessible, across everything you do.
Have previous experience in working collaboratively (ideally with other young people) to make change, and able to apply this experience to provide effective project management and deliver high quality programmes for diverse youth.
Previous experience in one or more of the following areas: doing STEM-based projects (scientific research or invention/innovation), science communication, STEM education/outreach, experience within scientific publishing, experience relating to the UN Sustainable Development Goals.
Able to take an impact-driven approach towards achieving Youth STEM Matters mission, and understands the bigger picture of how their programme design, the community they build and young people's experiences as part of their programmes can impact different stakeholder groups.
Show commitment to Youth STEM 2030's mission and values, with a passion for empowering young people to drive change.
Application
To apply for this role, email:
to Mhairi McCann at [email protected]
All applications must be received by 5pm GMT on Wednesday, January 11, 2023.
For more information, visit Youth STEM Matters.