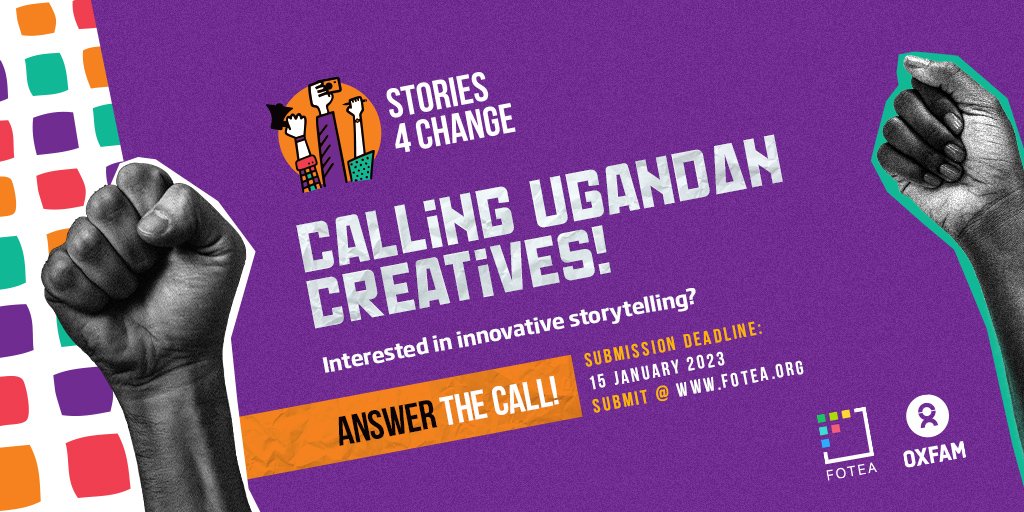 FOTEA/Oxfam 'Stories 4 Change' Programme 2023 for Young Creatives in Uganda
Deadline: January 15, 2023
Applications are open for the FOTEA/Oxfam 'Stories 4 Change' Programme 2023. FOTEA and Oxfam Uganda invite young creatives between the ages of 22 and 35 in the fields of photography, videography, written word, illustration, audio and podcasting to join them in a workshop programme 'Stories 4 Change'.
If you're working in the creative industries and you're interested in learning new skills, gaining valuable experience and helping to show the world fresh perspectives on global issues, they want to hear from you! 
Stories 4 Change will bring together a group of young makers to explore different mediums and narratives and collaborate with industry leaders to develop projects ready to be pitched to the world's press. Your stories matter, and they want to help you to tell them better, bigger and louder.
Programme Details
Participants should be young professionals with some working experience and a basic level of technical skills. You should also have an interest in exploring and documenting public, social, economic or political issues in creative and collaborative ways. The programme will run over the course of six months from February to July, and participants will be expected to commit a substantial period of time during this period.
The programme involves:
Storytelling Bootcamp: This will comprise of 5 sessions that will delve into the specifics of each of the base mediums that they are focusing on. Tutors include Aggie Patricia Turwomwe, Angie Emurwon, Sarah Ijangolet, Lawrence Musoke and Miriam Watsemba. 40 participants will be selected for this phase
Seminars on Story Building Blocks and Story Creation: This will involve an extended series of theoretical and creative input sessions leading towards a collaborative storytelling exercise. All sessions will be hybrid to encourage broad participation and enable upcountry creatives to take part. 15 participants will be grouped and tasked to work on and develop a collaborative multimedia story. They will be expected to identify, script, produce and complete their stories over the course of 1 and a half months under the guidance of a mentor. 15 participants will be selected from the initial 40.
Cost
Stipends will be available to cover expenses incurred.
Eligibility
Applicants must be Ugandan citizens or have proof of residency if non-citizens. 
Applicants should be between 22 and 35 years of age. 
Should have a minimum of 'A' level education, with base or working internet and computer knowledge. Some working experience and a basic level of technical skills would be welcomed but not required.
Application
Applications must be accompanied by:
A portfolio – share a link to some of the creative work you've done in whichever medium you're conversant with. This may be a link to your website, blog or any cloud storage options like Google Drive, Dropbox or iCloud.
A motivation letter (between 200 and 400 words) explaining why you should be considered for this endeavour and what you hope to gain from this experience. This can be submitted as a pdf or word document.
A short concept note (between 400 and 700 words) on your Story 4 Change. Which public, social, economic or political issues are important to you, trigger or inspire your creativity? What do you wish to explore and think is important for others to get to know more about?. This can be submitted as a pdf or word document.
For more information, visit 'Stories 4 Change' Programme.