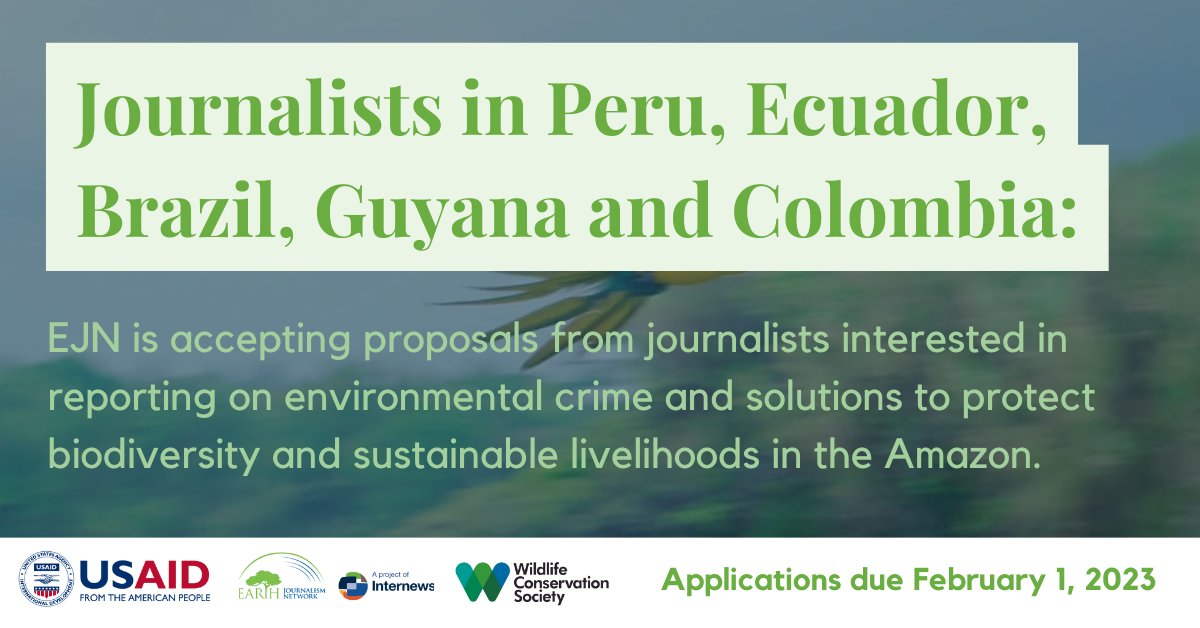 EJN Story Grants to Strengthen Environmental Coverage in the Western Amazon 2023 (up to $2,500)
Deadline: February 1, 2023
Applications for the EJN Story Grants to Strengthen Environmental Coverage in the Western Amazon 2023 are now open. Internews' EJN is offering story grants of $1,500 to $2,500 to journalists to produce stories on transnational conservation crimes in the Amazon Region and the threats faced by Indigenous peoples and local communities in Brazil, Colombia, Ecuador, Guyana, and Peru.
The project aims to facilitate safe and effective collaboration among journalists, independent media, and communicators to support the production of content that amplifies Indigenous peoples' and local communities' issues. The goal is also to promote transparency and accountability to combat transnational conservation crimes in the Amazon basin.
Story Themes
They welcome story ideas that focus on the threats to biodiversity and sustainable livelihoods due to activities such as illegal logging, unsustainable fishing, wildlife trafficking, and illegal mining. 
They also welcome solutions-driven story pitches highlighting the actions of policymakers, civil society organizations, Indigenous peoples and local communities, and business sectors to deter and mitigate the threats posed by conservation crimes in the Amazon. Such activities include, for instance, sustainable forestry management practices, tracing and monitoring wildlife trafficking, and efforts to deter illegality across the value chain, such as certification, among others.  
They aim to support the production of stories that raise awareness about conservation crimes among communities and policymakers at the local, national, and regional levels.  
Proposals related to transnational economic or illicit activities and/or focusing on supply chain investigation are preferred. 
Grants
They expect to award up to 30 grants of around USD $1,500 to USD $2,000 each. They expect applications requesting higher amounts of around US$2,500 to include cross-country collaboration and/or be produced in partnerships of two or more outlets or organizations. 
Eligibility
Open to journalists working in any medium (online, print, television, radio) and other expert media practitioners with professional reporting experience. They welcome applications from early-career journalists and experienced reporters with a track record of covering environment conservation topics in the Amazon region. They encourage applications from freelance reporters and staff from all types of media organizations – international, national, local, and community-based.
Applicants can be based in Brazil, Colombia, Ecuador, Guyana, and Peru; applicants residing in the Amazon region of these countries are preferred.
Groups of journalists are eligible. However, the application must be made in the name of one lead applicant. If awarded, the lead applicant is responsible for communicating with EJN and receiving funds on the group's behalf. 
For the purposes of this grant opportunity, they will be accepting applications in English, Spanish, and Portuguese. 
EJN reserves the right to disqualify applicants from consideration if they have been found to have engaged in unethical or improper professional conduct.
Judging Criteria
Applicants should consider the following points when devising their story proposals.
Relevance: Does the proposal meet the criteria and objectives of the call? Why does this story matter, and to whom? Are the main idea, context, and overall value to the target audience clearly defined?
Angle: If the story has been covered, does your proposal bring new insights to the topic or offer a fresh angle?
Impact: Does the proposal have a compelling narrative or investigative element that will inform and engage, draw attention, trigger debate, and spur action?
Innovative storytelling: Using creative approaches, multimedia, and data visualization will be considered a plus.
Plan for timely publication: Reporters, whether freelance or employed at a media outlet, will need to include a letter of support from an editor in their application, committing to publish the stories by the end of August 2023.
Application
For more information, visit EJN Grants.