Each of us deserve better and easier access to health information including data and trends. Goodnews is >>> the long awaited Health Mobile app has launched in October 2013 and is now available on the Android store!
HealthMobile is the second mobile phone application of The HealthBook Project. The initiative of creating a cross-platform full-feature app was founded by Johnson Okorie and Joshua Ihejiamaizu who are co-owners of NIXIT, the company directly responsible for managing the HealthMobile.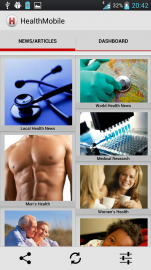 HealthMobile in the long term will seek to combine native medical information with user-generated content to create a top web healthcare facility through which healthcare delivery can be made possible from any location, with or without the physical presence of a doctor. Their mission is to become the foremost service in global healthcare delivery through technology.
Over 800,000 food and recipes, 24,000 drugs and supplements, 4000 health topics, 40 First Aid conditions and videos are available on the platform.
#HealthMobile provides health topics/information, health news focusing on various health categories important to you, food/diet information, locates hospitals around you, drugs/supplements information, first aid information and videos and lots more.
Connect
Join HealthMobile on Twitter for LIVE updates – @health_mobile
Facebook: https://www.facebook.com/healthmobile
Follow this link to download – www.nexva.com/31673
Let your friends know today!