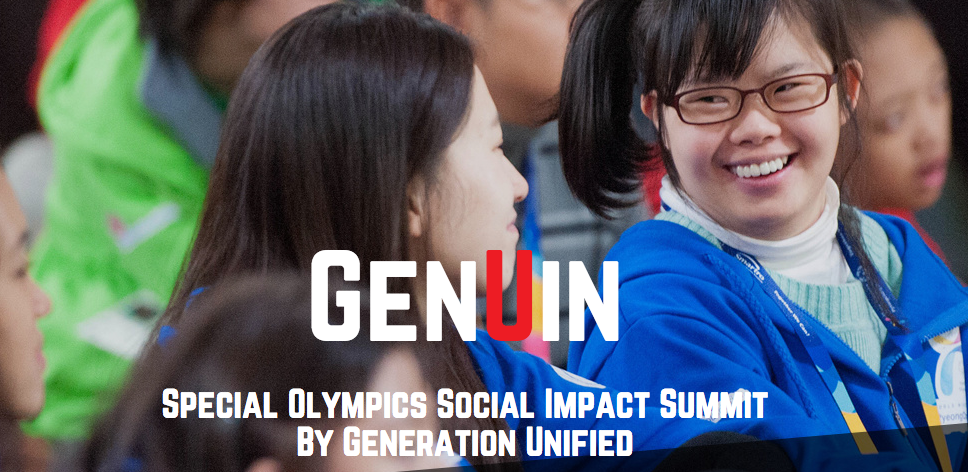 Apply to attend the Special Olympics Social Impact Summit By Generation Unified 2015 – Los Angeles, USA
Deadline: March 1, 2015
Applications are now open for the 2015 Special Olympics Social Impact Summit By Generation Unified. This is a 5-day summit taking place during the Special Olympics World Summer Games from 23-27 July 2015 in Los Angeles, CA, USA. The Games will be the largest humanitarian event anywhere in the world in 2015 convening 7,000 athletes from 177 countries for sports competition.
Generation Unified leaders are invited to apply with project proposals. During the Summit, which will bring together 150 global youth leaders and 30 global change mentors, they will connect, engage, and learn from mentors who will help them turn idea into impact. Each project will receive funding upon completion of the Summit program.
About the Summit
The generation of young people today fiercely chases its passions and deeply believes that they can change the world. Generation Unified chases a vision that this world can eliminate stigma and barriers against people with intellectual disabilities. For 47 years, Special Olympics has been a force for ending intolerance, injustice, and inactivity. Join them, as they create Generation Unified.
People with intellectual disabilities are rarely seen as owners of change. Rather, they are among the most discriminated and powerless populations in the world. They are creating Generation Unified to change this reality.
What to Expect
You will be inducted as leaders of Generation Unified and will join the mission to create social impact for a more inclusive world.
Gain an in-depth look into the challenges facing people with intellectual disabilities, and equip yourself with how to influence change, drive impact, and create results.
You will have the chance to showcase your impact project to the World Games audience. Top impact projects will be nominated
Get ready to be inspired and motivated by a speaker series featuring critically successful leaders who have made an impact through mobilizing young people, believing in social good, and developing important partnerships.
The top nominated impact projects will present in front of a panel of VIP judges. Each judge will recognize and "adopt" a project. Close this exhilarating day with the presentation of the GenU Manifesto, your declaration of social change.
Eligibility
You must meet the following criteria to apply:
You must be between the ages of 16 and 25.
You must be enrolled in school at some level (secondary, post-secondary, university, graduate, etc.), or in a community program; or employed.
You must be fluent in the English language (speaking, reading, writing).
You agree to complete necessary registration forms and to provide additional references or undergo background screening as requested by the organizers.
Applicants may apply as individuals, or as inclusive pairs (of one person with an intellectual disability and one person without an intellectual disability).
NOTE: If selected to attend, participants may need to travel with an adult. Details and criteria will follow upon selection.
Cost and Benefits
If you are selected to attend, you will get:
7 day, 6 night stay in the Westin Bonaventure Hotel, downtown Los Angeles (http://www.thebonaventure.com)
All meals (breakfast, lunch and dinner) during your 7-day stay
Tickets to the Special Olympics World Summer Games 2015 Opening Ceremonies
Unified Sports experience during the Special Olympics World Summer Games
Special edition gear including shirts, bags, and other goodies by our amazing sponsors like TOMS, Mattel, and more
The only thing you are responsible for is your own transportation to and from Los Angeles, California, USA from 22 July to 28 July, 2015. However, fundraising tools will be provided to help you raise the funds you need. Financial aid may be provided to those who apply with indication of need.
For more information, visit Special Olympics Social Impact Summit.