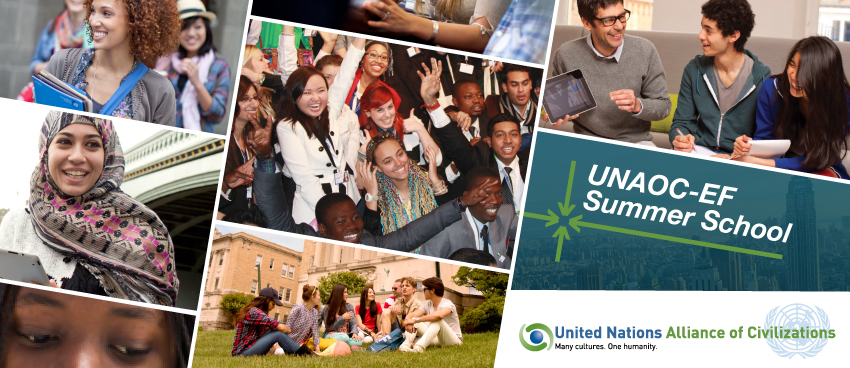 Apply to attend the UNAOC – EF Summer School 2015 – New York, USA (fully-funded)
Deadline: March 9, 2015
Be one of 75 youth for global positive social change. Apply now for the 2015 UNAOC – EF Summer School in New York. This is an opportunity to engage with participants and trainers during one week of interactive discussions, workshops and visits geared towards peacebuilding, social justice and reducing identity-based tensions.
About
The Summer School is a unique space for learning and collaborating that welcomes a diversity of participants, speakers and educators from a wide range of contexts. In this space, diverse perspectives, experiences and epistemologies contribute to greater understanding and respect among people, encourage new thinking, and inspire context-sensitive action and solutions.
Seventy-five participants will be selected by a committee composed of youth along with UNAOC and EF staff. These participants will travel to New York City and be accommodated in Tarrytown, NY, on EF's international campus, where they will participate in the Summer School, which includes workshop sessions on the campus, a visit and panel discussion at the United Nations headquarters as well as site visits in New York City.
Benefits
Increase your understanding of other cultures and faiths, explore the similarities that unite us, and gain concrete tools to grow and sustain your impact in your communities.
Walk away with a broader network of individuals committed to take joint action on pressing challenges within the context of cultural and religious diversity
Selected participants of the UNAOC – EF Summer School 2014 will be provided with the following:
international travel to and from the international airport closest to their residence,
cost of USA visa processing, if applicable (if the participant needs a visa to enter the USA,
shared accommodation (triple or quadruple rooms with participants of the same gender) while in Tarrytown,
meals during the official portions of the Summer School,
full event access during the entire week of the Summer School,
shuttles from and to the airport in New York City,
the cost of US and transit visas (if applicable),
the cost of vaccinations required to enter the US (if applicable), and
international travel insurance while traveling from their residence to the Tarrytown campus until their return home from the program.
Please note that neither the UNAOC nor EF will reimburse any expense incurred by participants to the Summer School.
Eligibility
In order to be considered eligible to apply, you must fulfill all of the following criteria:
be between the ages of 18 and 35 years old on 13 June 2015 — the start of the UNAOC – EF Summer School.
be linked to an organization or a network (e.g. youth council, youth NGO, non-profit organization, youth-led organization, community organization, faith-based organization, youth network or platform, college, university, social entrepreneur, blogger, etc.)
hold a passport valid until at least January 2016 (for a visa to be issued, a passport needs to be valid for at least 6 months after the expected date of entry into the country).
possess upper-intermediate English proficiency. Read a detailed explanation in the previous FAQ.
Selection Criteria
The selection of the 75 participants will be based on applicants'
responses to essay questions regarding motivation
past and future involvement in issues to be tackled during the Summer School.
professional and/or educational and/or volunteering background
level of English proficiency
balance in terms of region and gender
Read the complete Application Guidelines.
For more information, visit UNAOC – EF Summer School.