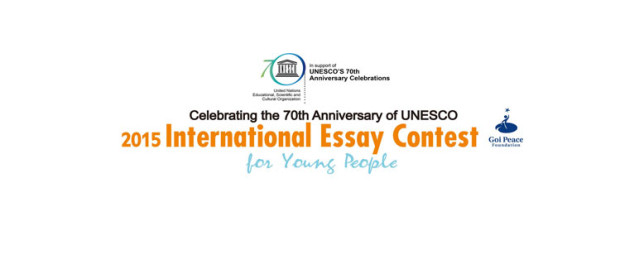 Goi Peace Foundation/UNESCO International Essay Competition 2015 – Tokyo, Japan
Deadline: June 15, 2015
What does it mean to build peace in our hearts and minds? How does it relate to the world around us? The Goi Peace Foundation organizes an essay competition on the theme "Building Peace in Our Hearts and Minds." The competition is endorsed by the Ministry of Education, Culture, Sports, Science and Technology of Japan, Japanese National Commission for UNESCO, Japan Private High School Federation, Tokyo Metropolitan Board of Education, Japan Broadcasting Corporation and Nikkei Inc.
This annual essay contest is organized in an effort to harness the energy, imagination and initiative of the world's youth in promoting a culture of peace and sustainable development. It also aims to inspire society to learn from the young minds and to think about how each of us can make a difference in the world.
Prize
First Place: Certificate and prize of 100,000 Yen (approx. US $840) plus winner will be invited to the award ceremony in Tokyo, Japan scheduled for December 2015. Travel expenses will be covered by the organizer.
Second Place: Certificate and prize of 50,000 Yen (approx. US $420)
Third Place: Certificate and gift.
Honorable mention: Certificate and gift.
Additional awards may feature Recognition for Effort, Best School Award, School Incentive Award, if applicable.
Eligibility
The competition is open to two categories of individuals:
Children – ages up to 14 years.
Youth – ages 15 – 25 years.
Application Process
Essays must be 700 words or less in English, French, Spanish or German, or 1600 characters or less in Japanese, excluding essay title. Essays may be typed or printed.
Essays must have a cover page indicating:

Category (Children or Youth)
Essay title
Your name
Address
Phone number
E-mail
Nationality
Age as of June 15, 2015
Gender
School name (if applicable)
Word count.

Teachers and youth directors may submit a collection of essays from their class or group.
Please enclose a list of participants' names, ages and the name and contact information of the submitting teacher or director.
NOTE: Entries missing any of the above information will not be considered. Also that the organizer is unable to confirm receipt of essays or answer individual inquiries concerning contest results.
Essays can be sent by post to:
International Essay Contest c/o The Goi Peace Foundation
1-4-5 Hirakawacho, Chiyoda-ku, Tokyo 102-0093 Japan
or online HERE along with your personal information. Essays must be original and unpublished and submitted by individual author, not co-authored.
For more information, visit Goi Peace Foundation Essay Contest.