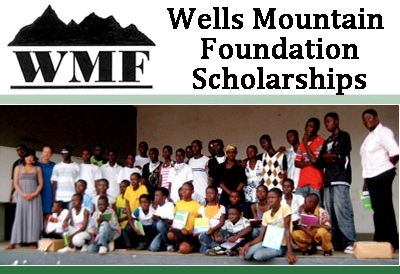 Wells Mountain Foundation Scholarship for Developing Countries
Deadline: April 1, 2015
Applications are currently open for the Wells Mountain Foundation Scholarships for academically outstanding student from developing countries.
Scholarship Worth
Scholarship ranges from $300- $3000 which may be used towards
tuitions and fees
books
room rents & meals
Eligibility
The Ideal Candidate – A student, male or female, from a country in the developing world, who:
Successfully completed a secondary education, with good  to excellent grades
Will be studying in their country or another country in the developing world
Plans to live and work in their own country after they graduate
Has volunteered prior to applying for this scholarship and/or is willing to volunteer while receiving the WMF scholarship
May have some other funds available for their education, but will not be able to go to school without a scholarship
How to Apply
1. Apply online here or
2. By Mail  (Download application form here). Mail completed application form and required documents in one packet to
Wells Mountain Foundation
25D Main Street Bristol,
Vermont 05443 United States of America
If you do mail in your application, it must arrive (not postmarked by) on or before April 1, 2015.
A complete application includes the following:
Clear personal photo
Two essays
2015 Application form
Personal essay statement
Two recommendation letters (See recommendation guidelines)
Official transcript of grades from secondary school
Office transcript of grades from tertiary studies (if applicable)
Official grading key to interpret grades**
Official results from your national exam
Official grading key to interpret scores on your national exam**
Official grading key to interpret grades**
**(Official grading keys must be provided by the school issuing the grades or the government issuing the national exam. Grading keys that are not official will result in your application being disqualified. Contact your secondary school, college/university, or government for this document).
For  more information, visit Well's Mountain Foundation or e-mail [email protected]