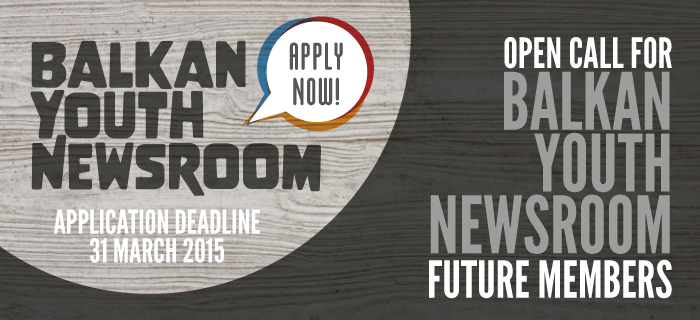 Participate in the Balkan Youth Newsroom – Apply Now!
Deadline: March 31, 2015
The IDEA Southeast Europe in partnership with "Juzne Vesti" from Nis, Serbia, "ONAuBiH", from Sarajevo, Bosnia and Herzegovina and student radio "UGD FM" from Stip, Macedonia is pleased to announce an open call for applications to select youth from Bosnia and Herzegovina, Macedonia and Serbia to participate in Balkan Youth Newsroom.
The "Balkan Youth Newsroom" project includes 60 youth from Macedonia, Serbia and Bosnia and Herzegovina well trained in art of journalism, video editing, photography, investigative journalism, digital storytelling, online writing, creating and maintaining a news website. The project's outcome will be a production of stories using different kind of media covering issues from all main priority policy areas. All stories will be published on the "Youth Newsroom" platform created by IDEA SEE, as well as will be offered and advocated for publication in other websites, newspapers, TV stations and radios that will be subscribed to the "Balkan Youth Newsroom" content or that operate individually in the project countries.
Program Schedule
Each country will have 20 participants, divided in 4 groups and working in local media newsrooms – partners of the project. A total of six workshops will be organized in the host cities of the project. Two workshops per city will take place. The opening workshop will cover two tracks – Journalism and Argumentation, and the second will be organized during the middle of the project implementation, covering the topics of Journalism and Digital Storytelling.
Costs
All the project costs are covered. All the participants in this project will sign agreements for being involved in the project during the whole period of implementation.
Eligibility
The project is open to young people between 18 and 28 years.
Candidates should be from Bosnia and Herzegovina, Macedonia and Serbia.
Application Process
Fill out the application form.
For more information, visit Balkan Youth Newsroom.