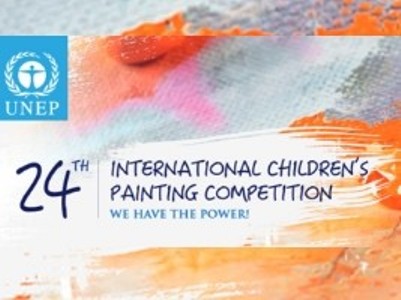 24th International Children's Painting Competition
Deadline: May 31, 2015
The International Children's Painting Competition on the Environment is organised every year by the United Nations Environment Programme (UNEP) and the Japan-based Foundation for Global Peace and Environment (FGPE). Since 1991, it has received more than 3 million entries from children in over 100 countries.
UNEP is inviting young artists all over the world to participate in the 24th International Children's Painting Competition.The theme this year is 'We have the power!' which focuses on sustainable energy.
Eligibility &  Rules
This competition is open to children aged 9 to 14 years
painting must be done on A4 or A3 paper
Style of painting – watercolours, crayons, coloured pencils, oil paints, charcoal or ink are accepted. No mosaics or collages will however be considered. (Mosaics and collages consist of any picture or pattern produced by arranging together small coloured material, such as paper, cloth, stone, tile or glass).
Participants can submit up to five paintings.
Guidelines for submitted paintings
 Paintings must be the original work of the participant and must be created specifically for this competition.
Paintings that show or include a particular person, an organisation or a brand name or logo will not be accepted.
 Paintings should be received by UNEP on or before 31 May 2015.
Online submissions should be a scan image or picture of the original painting(s) created by you. You will be asked to submit the original painting via post or courier should you be short-listed.
Do not alter digital images submitted online (except to crop out unwanted canvas area or rotate image). Any differences between the submitted digital image and the original (except perceivable lighting discrepancies) will result in automatic disqualification.
Prizes
Top three winners will also receive a fully paid trip, including for one chaperone, to the venue of the Award Ceremony
The 1st Prize – US$3,000
The 2nd Prize – US$2,000 
The 3rd Prize – US$1,000
Regional winners
The winner shall be chosen from each of the six regions – Africa, Asia and the Pacific, West Asia, Europe, Latin America and the Caribbean, and North America will receive US$1,000.
How to Enter
Participants will take part in the competition by submitting a scanned copy of a painting online, or by posting or courier your painting(s) to one of the six UNEP Regional Offices in the country of your nationality. Paintings must arrive at your regional office before the deadline .
Submit paintings online  here.
See lists of UNEP Regional Offices.
For more information visit Tunza Children.