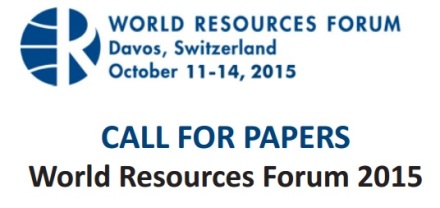 Call for Papers for World Resources Forum 2015
Deadline: May 1, 2015
The World Resources Forum (WRF) is the global science-based platform for sharing knowledge about the economic, social and environmental implications of global resource use. WRF promotes innovation for resource productivity by building bridges among researchers, policymakers, businesses, SMEs, NGOs and civil society. The flagship activity is the annual WRF Conference.
The conference addresses various categories of resources, such as raw materials, water, air, land and soil, biomass and biodiversity. Submissions in the four key topics can address resource relevant issues such as: recycling, energy supply and systems integration, ICT, cities and infrastructure, transportation, and food and agriculture.
Date: October 11-14, 2015
Venue:  Davos Congress Centre in south-eastern Switzerland.
Eligibility
Registered students, research fellows or faculty members from any university, institute or think-tank
Benefits
A selection of short proceedings will be considered for publication as peer-reviewed articles in a scientific journal.
Upon agreement with the corresponding author, all provided information including PowerPoint presentations and posters will be made accessible to the public on the WRF website after the conference.
Economically-disadvantaged authors of exceptional submissions may be eligible for financial assistance to participate in WRF-2015.
First-hand information about emerging issues and trends as well as progress done on resources management worldwide
 Interaction with decision makers
 Ideas for new business models, projects and research topics
 Quick and easy access to the latest scientific results
 Global visibility for activities and projects
Application Process
1. Paper abstracts (max 300 words) of either theoretical or applied nature can be submitted online on the WRF website, starting in March 2015.
Key Topics:
Circular economy and decoupling
Technological innovation, business and finance
Targets, indicators, and benchmarks for resource use
Lifestyles and education
2. Contributions should address one of the four key topics listed above and should not have been previously presented at international conferences or published in international journals.
3. Final acceptance of any contribution requires registration of the author to attend the conference. The Scientific Expert Committee determines whether the author of an accepted short proceeding is ultimately invited for a paper or poster presentation.
For more information visit WRF 2015 or contact [email protected]