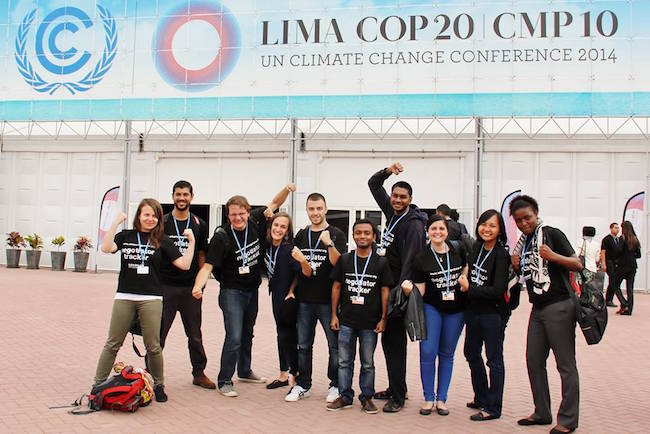 Adopt a Negotiator COP21 Fellowship to attend UN Climate Change Conference in Paris
Deadline: April 29, 2015
Apply now for the Adopt a Negotiator COP21 Fellowship to attend the UN Climate Change Conference in Paris. Join the world's biggest climate change writing movement for a chance to join the Adopt a Negotiator COP21 team in Paris this year! The Climate Tracker Program will give you the chance to be selected for a fully-funded Fellowship to join the Adopt a Negotiator team at COP21 in Paris later this year.
About the Program
In 2014, young people from more than 70 countries joined our Climate Tracker program. Together, they published close to 400 articles in mainstream media around the world, all calling for stronger action on climate change. Adopt a  Negotiator team awarded Fellowships to some of the most influential participants, and sent them to Lima to track the COP20 climate negotiations.
This year, they plan to do the same. Could you be one of our Fellows to track COP21 in Paris?
This year's plans include:
Global and regionally focused trainings and briefings on key moments and opportunities – in English, Spanish, French, Mandarin and Arabic.
3 Global #Call4Climate Action opportunities: We helped create a massive buzz around the People's Climate Mobilization last year. This year, we'll do it again, and again, flooding the media with calls for climate action that leaders can't ignore.
We're also rolling out a number of small and strategic Climate Tracker opportunities to help you dig into the issues closest to your hearts. With more stories shared across the media landscape, we'll work together to push these issues to the top of the political agenda.
The Climate Tracker program aims to support young and passionate people eager to write about the most important climate issues affecting their country. This includes a series of trainings with leading climate change communicators, journalists, strategists and practitioners working on the front lines. They also offer editorial support, workshops on pitching, and directly help you reach out to some of the biggest media in your country, and the world.
 What Next?
The first global training will be launched on April 30th, 2015. The first Global #Call4Climate Action will also be launched in May.
This will be the first of a number global calls for climate action aimed at making your voice heard on these crucial issues throughout the year.
Apply before April 30th for your chance to join their first global training and join them on the path to Paris!
Based largely on your participation throughout the coming months, fully-funded Adopt a Negotiator COP21 Fellowships will be awarded in September.
Eligibility
Climate Tracker program is geared toward young people, but open to any age.
Adopt a Negotiator COP21 Fellowships are open to applicants between the ages of 18-30, who are able to attend the UN Climate Change Conference in Paris (30 November – 11 December).
For more information, visit Adopt a Negotiator Climate Tracker program.