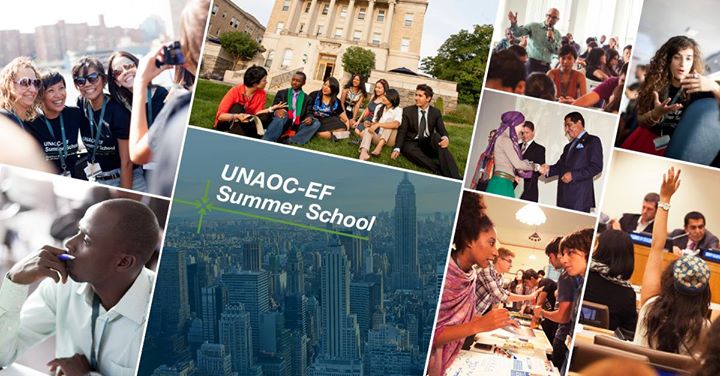 Meet the 75 Participants for the 2015 UNAOC-EF Summer School in New York
Did you apply for the 2015 UNAOC-EF Summer School? Or someone you know? Well, the 75 participants for the 2015 Summer School have been selected from across the world for an amazing one week in New York. Of the 14,000 applications received, a selection committee comprised of young people, as well as representatives from the United Nations Alliance of Civilizations and EF Education First has chosen the participants.
The UNAOC-EF Summer School is a unique space for learning and collaborating that welcomes a diversity of participants, speakers and educators from a wide range of contexts. In this space, diverse perspectives, experiences and epistemologies contribute to greater understanding and respect among people, encourage new thinking, and inspire context-sensitive action and solutions.

Benefits
These participants will travel to New York City and be accommodated in Tarrytown, NY, on EF's international campus, where they will participate in the Summer School, which includes workshop sessions on the campus, a visit and panel discussion at the United Nations headquarters as well as site visits in New York City.
They will increase their understanding of other cultures and faiths, explore the similarities that unite us, and gain concrete tools to grow and sustain your impact in your communities.
They will also walk away with a broader network of individuals committed to take joint action on pressing challenges within the context of cultural and religious diversity.
See the complete list below:
Abdel Nasser Beibe – Mauritania
Abdilahi Ibrahim Mohamoud – Somalia
Afaf Khalil – Lebanon
Ahmed Adel Saad – Egypt
Alaa Mufid Tawfiq Hamamra – Palestinian Territory, Occupied
Alejandra Patricia Corvalán Maira – Chile
Alemayehu Dekeba Bekele – Ethiopia
Alexandra Lacroix – France
Alisson Pamela Escobar Centeno – Ecuador
Amadu Wurie Jalloh – Sierra Leone
Anh Tram Phan – Vietnam
Anne-Lise Schneider – Switzerland
Anthony Shuko Musiwa – Zimbabwe
Augustine K. Kou – Liberia
Battsetseg Enkhtuya – Mongolian
Bertha Kalongelwa – Zambia
Charlotte Laridaen Mariette Willy – Belgium
Denis Pato – Uganda
Diana Carolina Alarcón Moreno – Colombia
Eleanor Rosa Igna Pinugu – Philippines
Eoin O'Liathain – Ireland
Ernesto Ferreira Vasconcellos – Brazil
Florence Wambui Muriuki – Kenya
Gaston Alejandro Akerman – Argentina
Goran Velkovski – Macedonia
Hachelaf Ahmed Abdelhakim – Algeria
Haidara Al Mansour – Syria
Hasina Ibrahimkhil – Afghanistan
Hilda Nambili Liswani – Namibia
I Wayan Alit Sudarsana – Indonesia
Itay Sarag – Israel
Iván Fernández García – Spain
Jakob Valenta – Austria
Jennifer Omokhuwa Aduro – Nigeria
Jhosep Delgado Guerra – Peru
Khadega Abdulaziz Al-omqi – Yemen
Koketso Thabang Cheryl Moei – South Africa
Kristina Cvetkovic – Croatia
Ksenia Igorevna Stepnanenko – Russia
Kyuho Choi – South Korea
Lamise Hazem Hamed Hamouda – Australia
Leena Mohamed Osman Habiballa – Sudan
Lova Navalona Rakotoarisoa – Madagascar
Luna Haj Hussein – Israel
Mamane Yachaou – Niger
Manar Ibrahim AlSagob – Saudi Arabia
Maria Elena Villafuerte Mata – Mexico
María Gabriela Salazar Acuña – Venezuela
Mariam Khuroshvili – Georgia
Mariya Assinskaya – Kazakhstan
Martins Birgelis – Latvia
Michel Musendele Alimasi – Italy
Moa Kristina Antonia Fohlin – Sweden
Mohamad Yaman Sammani – Turkey
Mohammad Aref Sammour – Jordan
Mouna Zebidi – Tunisia
Mykola Buchko – Ukraine
Pamir Ehsas – Norway
Parul Arora – India
Ronak Yaryan – Iran
Roseline Kamdem Magne Epouse Njuakom – Cameroon
Rumeng Shi – China
Saidaziz Azamov – Uzbekistan
Samuel Chor Alier Aguto – South Sudan
Sara Fuchs – Germany
Sara Rajic – Bosnia and Herzegovina
Seema Lamichhane – Nepal
Shaan Muhammad Khan – Pakistan
Shwan Salahaddin Abdulrahman – Iraq
Solyda Say – Cambodia
Stacey Akelia Browne – St Vincent and the Grenadines
Thein Min Swe – Myanmar
Tshedrup Dorji – Bhutan
Urica Yernesi Primus – Guyana
Zannatul Ferdous – Bangladesh
Courtesy: http://www.unaocefsummerschool.org/
Congratulations to everyone selected especially I Wayan Alit Sudarsana from Indonesia and Mamane Yachaou from Niger.