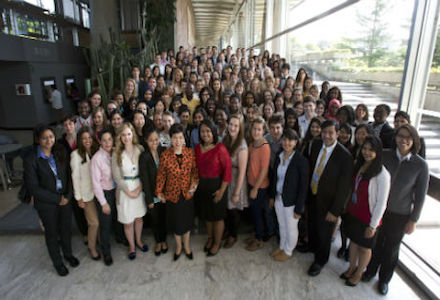 2015 World Health Organization Winter Internship Program for Students Worldwide
Deadline: September 30, 2015
Applications are now open for the 2015 World Health Organization (WHO) Winter Internship Program. WHO's Internship Programme offers a wide range of opportunities for students to gain insight in the technical and administrative programmes of WHO.
The duration of WHO internships is between six to 12 weeks. Exceptionally, internships may be extended up to a maximum of 24 weeks depending on the needs of the WHO technical unit and your availability.
Eligibility
Applicants must be:
at least twenty years of age on the date of application.
fluent in the working language of the office of assignment (English or French for WHO Headquarters).
 have completed three years of full-time studies (bachelor's level or equivalent) at a university or equivalent institution prior to commencing the assignment; or
be enrolled in an advanced degree programme in a graduate school (second university degree, equivalent, or higher) at the time of application; or
possess a first degree in a public health, medical or social field related to the technical work of WHO or a degree in a management-related or administrative field, and are applying for an intenship within six months of graduation.
Persons related to a WHO staff member, i.e., son/daughter, brother/sister are not eligible for an internship.
 must possess a passport of a WHO Member State.
must have adequate medical insurance coverage during the entire period of the internships. For Geneva-based internships, this medical coverage must include Switzerland.
Benefits
A dynamic and international work environment with a multi-cultural workforce;
Personal growth and professional development opportunities.
Networking opportunities.
Note: WHO internships are not paid and all costs of travel and accommodation are the responsibility of the intern or the sponsoring institution.
How to Apply
Internship at the WHO Headquarters in Geneva, Switzerland.
Complete an application for internship. This questionnaire includes providing details about your education and experience. You will be able to indicate the area of work within WHO that you are hoping to intern.
You will be asked to write about your motivation for applying for a WHO Internship.
Internships in the WHO regional or country offices.
If you are interested in applying for an internship in one of our regional or country offices where a limited number of internships may be available, please contact them directly at the following e-mail addresses:
WHO Regional Office for Africa: afrgohrinterns@who.int
WHO Regional Office for the Americas: interns@paho.org
WHO Regional Office for Europe: interns@euro.who.int
WHO Regional Office for the Eastern Mediterranean: emrgohrs@who.int
WHO Regional Office for South-East Asia: seinterns@who.int
WHO Regional Office for the Western Pacific: interns@wpro.who.int
WHO Headquarters also accepts interns in the following out-posted offices:
WHO Global Service Centre: gsoffice@who.int
WHO Kobe Office: wkc@wkc.who.int
For more information visit WHO Internships or visit the FAQ section or e-mail interns@who.int.