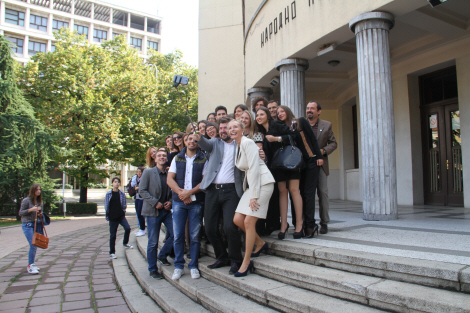 Apply to the Young Ambassadors Programme 2016 – Switzerland
Deadline: May 1, 2016
The "Young Ambassadors Programme" (YAP) is part of the four-year programme "Addressing Europe's Unfinished Business" (AEUB) and aims to enable participation of young representatives from countries which are members of the Council of Europe, plus Belarus, Kazakhstan and Kosovo in the annual Conference held in Caux, Switzerland and further involvement in other activities of the Initiatives of Change (IofC) network.
Objectives of the Programme
To give a voice to young Europeans who are passionate to build a common future based on shared European values.
To invite them to contribute to, and promote, a richer mutual understanding of beliefs, values, identity, history and cultures through a collective learning experience.
To offer an opportunity to enrich themselves and others ethically and culturally, through the sharing of personal experiences.
Costs
50 full scholarships will be offered to successful applicants selected to represent one of the 50 European countries.
Full Scholarship for conference participation and accommodation (full board for 6 days/6 nights);
Your conference registration fee of CHF 50, which you need to pay in advance will be reimbursed after the successful completion of the conference, when checking out on Sunday July 24, 2016;
Two-way transportation by coach and visit to the Jean Monnet Foundation in Lausanne.
Young ambassadors to AEUB commit to:
Help disseminate the information about the conference among their contacts and on social media;
Arrive on Monday 18 July and not leave before lunchtime on Sunday 24 July 2016;
Full active participation throughout the AEUB 2016 conference;
Represent their country and remain respectful of others regardless of personal, religious, political or philosophical beliefs;
Participate in the visit to the Jean Monnet Foundation on Tuesday 19 July 2016;
Prepare a small fun stand to represent your own country for the "Sharing Our Cultures Expo" evening. This could include typical food, drinks (non-alcoholic), traditional dress, flag, posters and any other interesting cultural items;
Provide feedback at the end of the conference;
Cover their travel expenses to and from Caux, Switzerland; Go here to see how to raise funds;
Comply with visa requirements (where applicable);
Please check the special programme for YAP here.
Eligibility
Candidates must between 18-25 years and nationals of a European country plus Belarus, Kazakhstan and Kosovo.
Application Process
Complete the online application form. Send your CV and motivation letter (max. one page) along with a proof of nationality to [email protected] after the completion of the form. Please note that incomplete applications will not be considered.
For more information, visit YAP 2016.