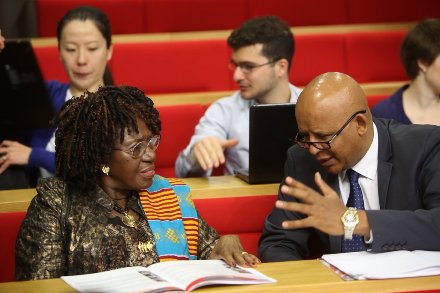 Call For Papers For LSE Africa Research Summit 2017- Travel & Accommodation Covered For a Selected Author
Deadline: December 31, 2016
The 4th LSE Africa Summit invites submissions of papers to be considered for presentation during the Annual Research Conference on the theme: "Built for Africa: African Solutions to African Issues?", to be held in London on March 31, 2017.
The Conference
The conference will bring together top-tier researchers from around the world and high-level policymakers to advance dialogue on Africa's developmental issues. It is intended to improve the feedback loop between researchers who produce knowledge and policymakers who rely on policy relevant and timely evidence-based research to make decisions. The conference will be feature parallel sessions based on contributed papers and projected presentations. These will be complemented by debates and keynote speeches by renowned speakers from academia, government, and practitioners. The conference will conclude with a policy roundtable session focused on distilling core messages for a policy-focused audience.
Awards
The London School of Economics and Political Science (LSE) will cover all economy class travel and accommodation costs for one author/presenter of a limited number of the papers selected for inclusion in the Research Conference.
Research Topics
In particular, but not exclusively, the organizers invite submissions (papers and presentations of projects) from all areas of work related to the following themes:
Building a Secure Africa: Conflict, Terrorism, and the Responsibility to Protect (R2P)

What regional strategies can be adopted to combat terrorism and improve security in Africa?
Is stability in the Maghreb a prerequisite for peace in West Africa?

How can security policies better protect African women/girls?

How can other non-state actors mobilize to provide solutions to conflicts
To what extent should external recommendations on the resolution of domestic conflict and terrorism be implemented in African states?
Managing refugee crisis in Africa: Marginalization vs. Assimilation? (The Kenya Model vs. The Uganda Model)

Reinventing Africa's Educational Systems: New Frontiers in Structure and Delivery

How can students be equipped with the right skills for the job market?

How can the role of technical and vocational education in the knowledge economy be redefined?

How can innovations in education (basic and tertiary education) be scaled up?

How can the quality of early childhood and basic education be improved?
Which education programmes/interventions best improves learning outcomes and school participation?
What is the role of third parties such as accrediting/professional bodies in improving the quality of tertiary education?

From the Streets to the Courts: Citizen-Led Accountability

How do we build the capacity of citizens at the grassroots level (especially those in rural areas) to hold those in power accountable?
How can citizenship-led accountability be promoted? And, how can citizens' rights be protected?
What role can social media play in holding governments accountable? What does recent empirical evidence show?
How can traditional accountability mechanisms be used to strengthen citizen's voice?
Is there a space for other forms of political systems in Africa? Should democracy be attained at all cost?

Inno-Native Design:  Locally Contextualized Solutions

What big picture strategies should African governments, NGOs and citizen entrepreneurs employ to help scale up innovative design projects?
How can innovative design architecture projects get the funding and other logistical support necessary for construction in African countries?
What micro-scale innovative design projects are available for public utility-deprived (low water and electricity generation) rural African communities? How can these projects be scaled up?
When innovative design architecture projects are constructed in the West (e.g. Washington DC's Smithsonian National Museum of African American History and Culture), does African cultural aesthetic simply get appropriated by Western observers or do such projects play a tangible role in raising awareness for Africa's social, economic and political needs?
How can people be made more aware of the prospects of opting for inno-native products and services as opposed to mainstream products?

Harnessing Africa's Informal Sector

How can the formalization of the informal sector lead to greater financial inclusion and economic independence?
What are the key constraints to formalization of informal sector businesses?What kinds of reforms have successfully integrated informal businesses into the formal economy, and what reforms have failed and why?
How can the informal economy be used to broaden the tax base of African countries?
What kinds of technical support should be provided to the informal sector?
All submissions must focus on Africa and use data on individuals, households, firms, or other organizations. Papers authored by African scholars are particularly encouraged. The organizers plan to publish articles in peer-reviewed journals to ensure high standard of quality control and distribution to a wide audience as a collection of papers.
Instructions for Submissions
Authors are invited to submit papers describing original, previously unpublished work, not currently under review by another conference, workshop, or a journal.
An abstract should be up to 200 words, it should describe the rationale and aims of the paper, and some of its results. General descriptions of broad contexts should be avoided.
The full contact details about the author(s) need to be provided. Abstracts can be written in English, French, Portuguese, or Arabic, should be written in the third person and not in the first or second one (e.g. I, me, or my paper).
Submissions must include the paper's title and a short biography that includes authors current position.
Abstracts selected for the submission of full papers, must be within the word limit of 6000 and 8000 words
Abstracts, full papers, and enquiries should be submitted by email to [email protected].
Key Dates
Submission of abstracts: 31st December, 2016
Notification of selected abstracts: 7th January, 2017
Submission of full papers: 20th February, 2017
Notification of selected papers: 27th February 2017
For more information, visit Research Conference-LSE Africa Summit