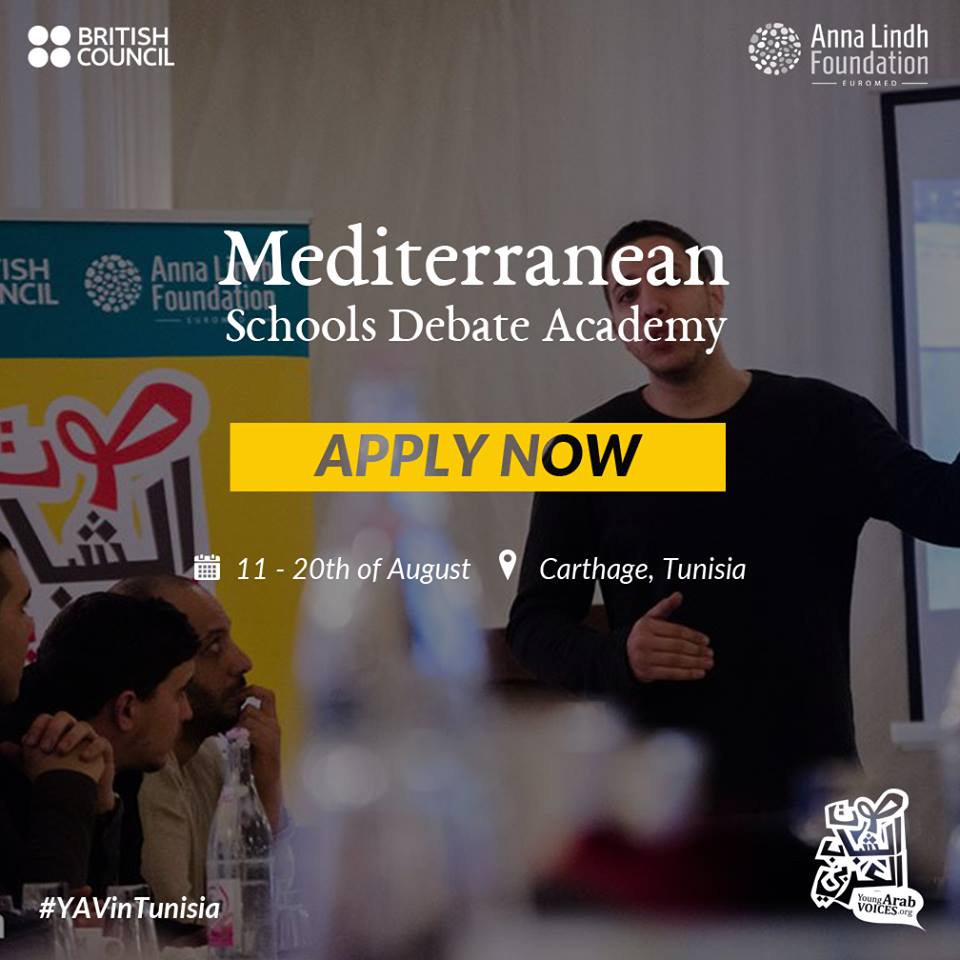 Mediterranean Schools Debate Academy in Tunisia 2017
Deadline: July 25, 2017
Apply now for the Mediterranean Schools Debate Academy 2017. Mediterranean Debate Academy is a 10-day camp designed for both novice and experienced debaters in Tunisian or International high schools aged between 15 and 19 years old. Over the 10-day period, participating students will attend training sessions about World Schools Debate Format, research and explore different topics, interact with national and international adjudicators and work with their teammates to build cases. The Academy wraps up with a three-day debate Championship, where national champions will be crowned and all students will be celebrated for their excellence and commitment. The Mediterranean Schools Debate Academy will also be an opportunity to sight see in Tunis Capital through YAV's organized tours.
Cost
The team of Young Arab Voices will cover accommodation and meals for 10 days in Tunis. The team will not cover travel expenses of International applicants.
Benefits
Extensive coaching from national and international trainers;
Intense instruction and practice debates in World Schools Format;
+60 hours of electives and lectures;
Guided tours in the capital's most renowned sights
Eligibility
Open to Students between 15 and 19 from Tunisia and other parts of the world;
High School teachers and educators in Tunisia;
Debate experience is preferred but not required;
Candidates should be willing to expand the local debate community.
Application
For more information, visit Mediterranean Schools Debate Academy.